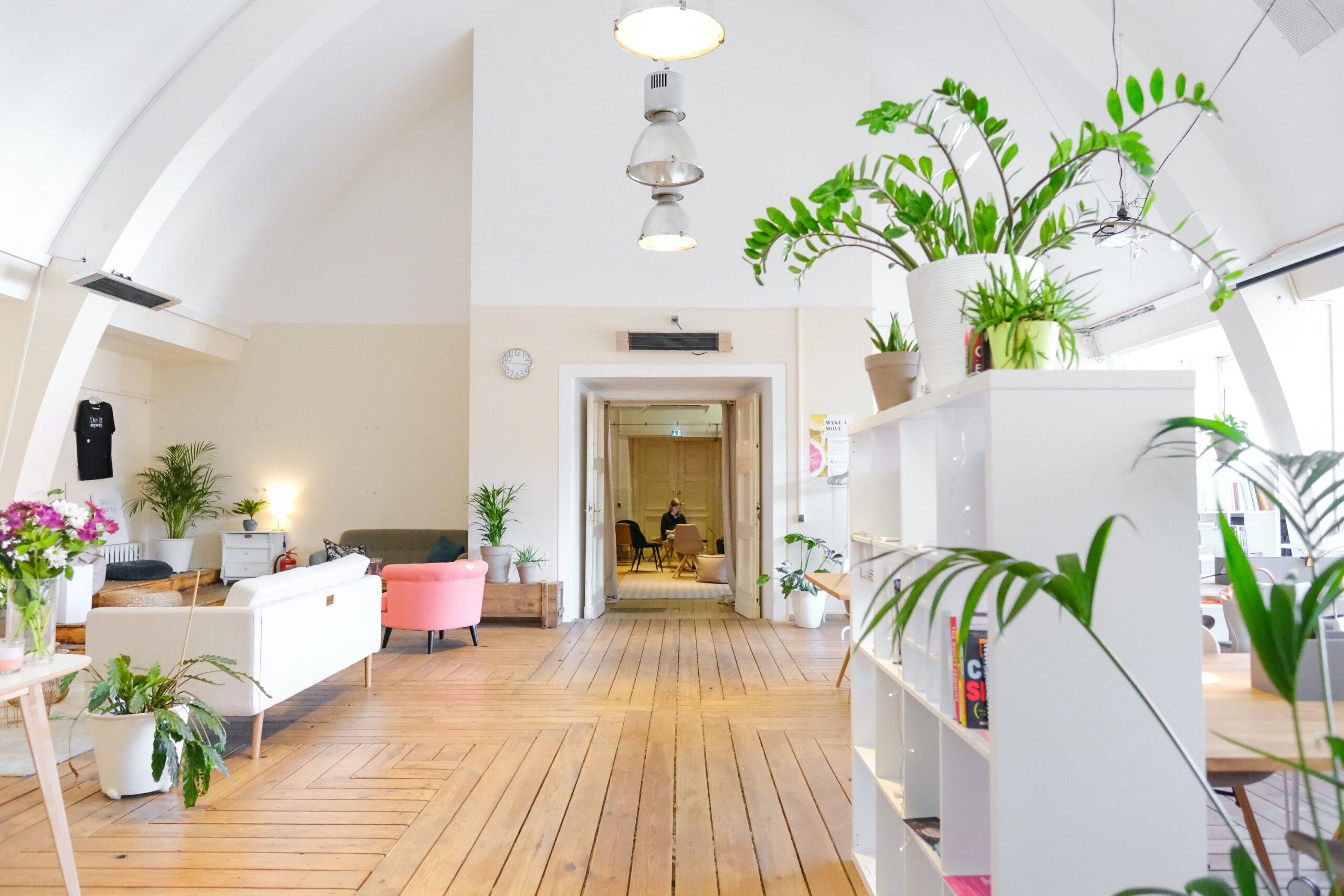 Social media marketing is one of the most effective ways to target your audience and drive sales. However, ineffective marketing can be a waste of time, or worse, even harm your brand's reputation. Enlisting the help of a top social media agency is the best investments your brand can make. So, how can a social media agency help your brand?
Behind The Scenes
The best social media campaigns aren't made overnight. If you hop out of bed and post the first thing that comes to mind there's a big chance you'll fail to engage your audience or even damage your reputation. Most, if not all social campaigns have plenty going on behind the scenes before you see the posts. These are the sort of campaigns that can increase followers, drive traffic to a landing site, and boost sales. In addition to running these social media campaigns, businesses use specific metrics to evaluate the performance of a sales force and individual salespeople. For example, pharmaceutical companies may use pharma sales force effectiveness to assess a company's sales professionals' ability to "win" at each stage of the customer's purchasing process and ultimately earn the business on the exact terms and in the right time frame.
Coming back to our campaign discussion, you need to be certain your campaign is professional, well-timed, structured, and represents your company in the best light. This is where a social media agency comes in. Teams that do this for a living are people you can trust and who can help you achieve things like:
Strategising
Think about what your brand wants to achieve. What are your social media KPIs? What's your target audience? What platforms are you targeting? How will specific engagement benefit your brand?
According to GlobalWebIndex, it's more common than not to have multiple social media accounts. In fact, the average person has 8.6 accounts, with the greatest number of accounts being held by Zoomers, swiftly followed by Millennials.

Multi-channel marketing is a must in your strategy but it's important to tailor the content to each platform. Posting Instagram stories on Tiktok, or Facebook-style posts on Instagram isn't going to go over well with most audiences. Read more about how to devise the perfect social media strategy.
Content is Integral
In 2021, you'll be hard-pressed to find a brand that isn't on social media. With so much marketing content out there, how can your brand distinguish itself from the crowd? Great content is still the most effective way to generate leads.
Whereas using in-house writers usually means you are constrained to limited forms and styles of content, working with an agency means your brand can publish varied content in a range of styles – technical analysis, fintech, campaign writing, etc. The hottest content form there is right now? Video. Watching videos is by far the most common activity on social media, with Facebook and Instagram still top of the pile of platforms used to watch on.
This doesn't mean you can expect consumers to gobble up absolutely any video content you put out. Quality, targeted content is paramount. This means staying on brand, using distinct themes, and producing great video scripts with the right tone of voice. Get all this right, and you can be looking at a great ROI – just look at MarketingProfs' stat below on how effective video marketing can be.
Hiring an agency to produce video that propels your marketing strategy is key. Speak to our team about creating great video or other forms of content for your brand.
Owning the Stage
Creating great content is one thing, but there needs to be much more going on behind the scenes. Your brands must have a documented, strategic plan of action. You'll find that almost all big brands, and successful smaller brands, employ a social media agency.
McDonald's uses prestigious (and costly) Wieden+Kennedy. Tweets such as above might give the impression of being a spur of the moment rumination from a staff member – note the lack of a starting capital letter and absence of a full stop. In reality, this tweet would have been the result of a brainstorming session with top Wieden+Kennedy marketers. Everything about it is considered and deliberate – from the casual style, tone of voice, to the time of day it was posted. And with great success in terms of engagement – you can bet that Happy Meals saw an unusual rise in sales that day.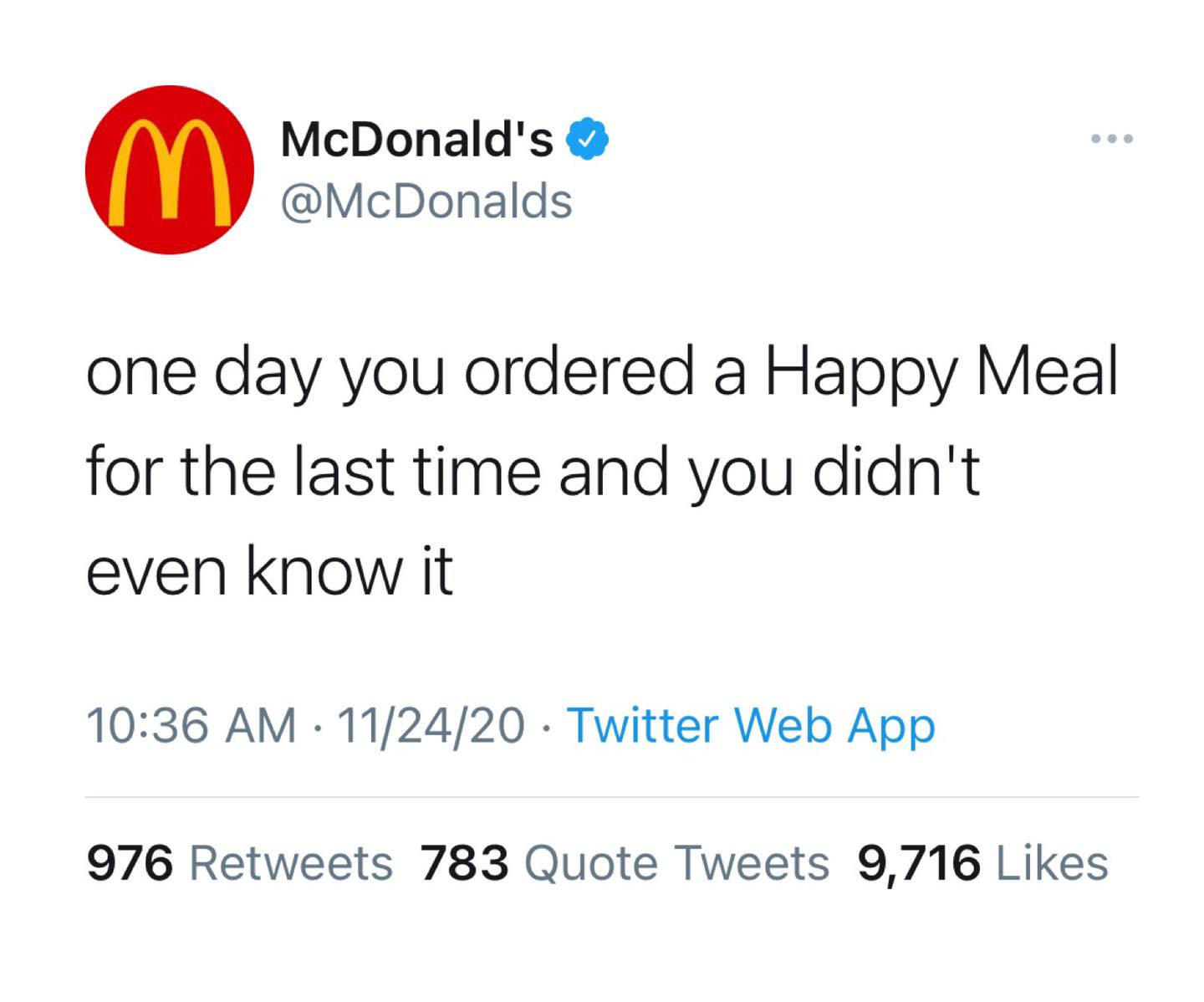 And then there's that Weetabix & Baked Beans tweet that featured tons of top brands. None of that was an accident and likely involved one if not several social media agencies.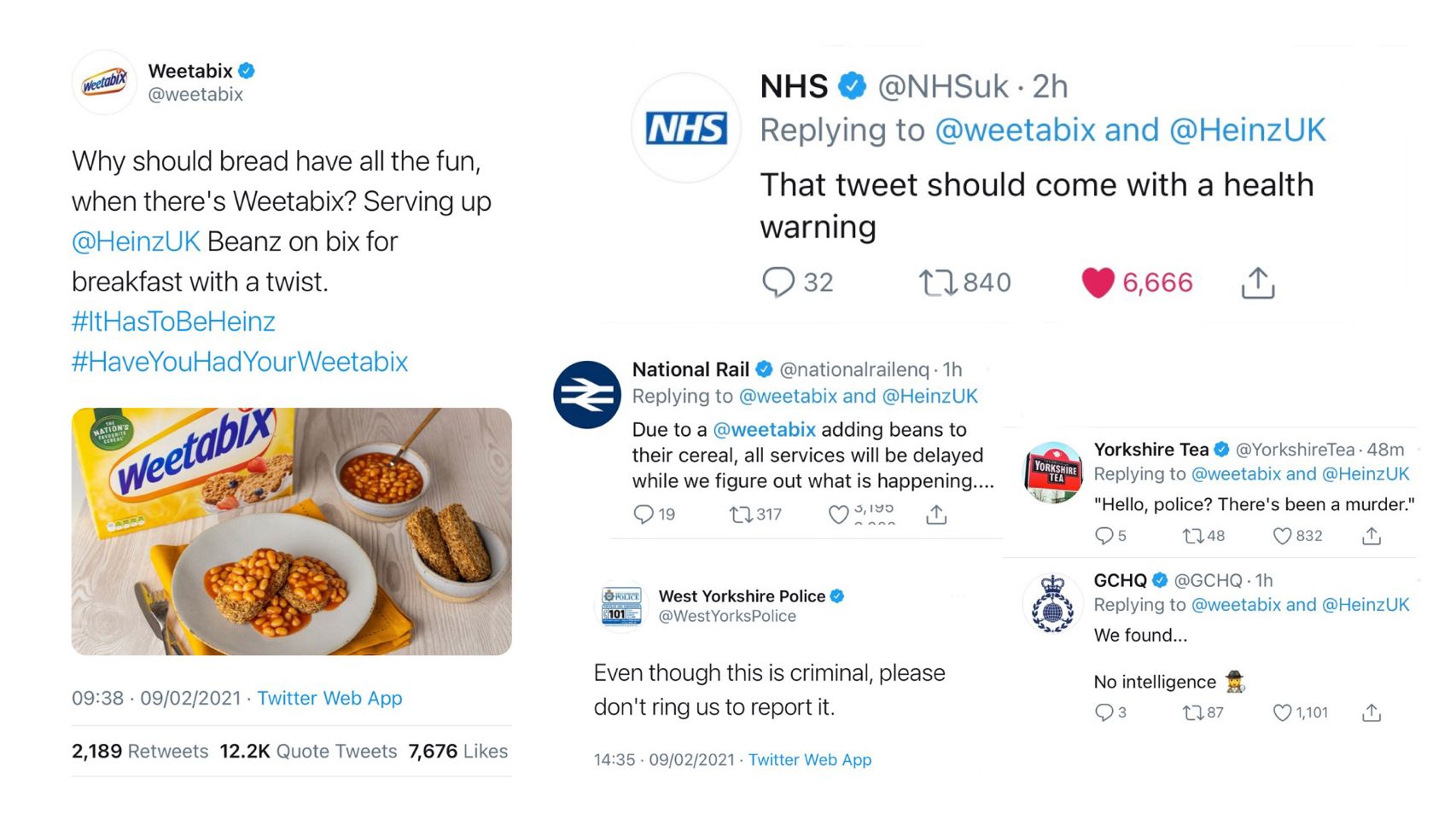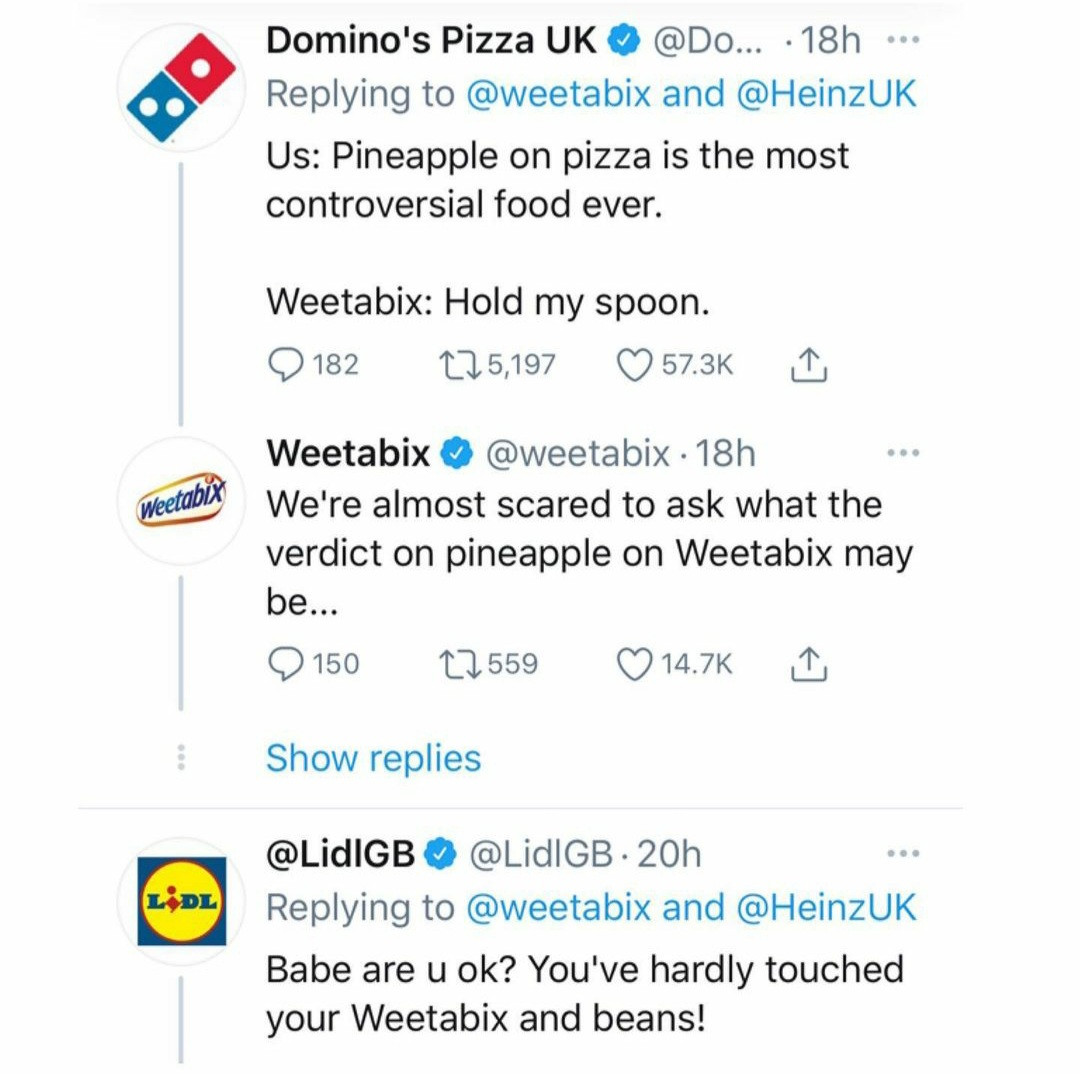 And of course, former President Donald Trump and his infamous Twitter account.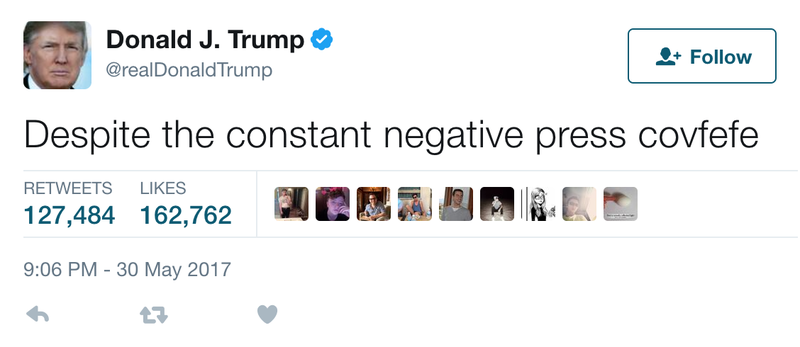 A social media marketing agency can help with:
Timely Content
Timing is everything. Push content at the wrong time of day and a big chunk of your ROI is lost. Knowing when your target audience is most likely to be online and releasing your content at this opportune time is crucial.
Stats like the above shouldn't be considered one-size-fits-all. Different demographics are online at different points throughout the day and lockdowns have had a significant impact on social media use too.
Marketing expert Neil Patel says,
'If you post too infrequently, your audience will forget that you exist and you will quickly fade into the deep dark recesses of their minds. However, if you are posting too often, you will become a complete nuisance and they will dread seeing your posts overcrowding their feed.'
If you don't have the time to post quality content across your channels or to devise the optimal strategy for your brand, you need an agency to do the legwork for you. An agency helps you identify your audience demographic, when they're online, and how best to target them.
Engagement
A good social media agency like Contentworks are experts in their field. They know exactly what sort of content is most likely to captivate and engage your audience. an agency can act on your behalf to engage your audience using techniques like:
Talk About Your Products
Join Question & Answer Sessions
Share Other People's Content
Make Your Posts Visual
Add Relevant Hashtags to Your Posts
Create Polls & Surveys
Run Contests and Giveaways
Piggyback on trends and memes
Check out Wendy's popular Twitter account that engages fans, roasts competitors and pulls in retweets. Interestingly, Amy Brown is the company's social media manager and has been since 2012. Brown, who got the job after "trolling" the company's vice president of advertising on Twitter, has added quite a personality to the company's social media presence.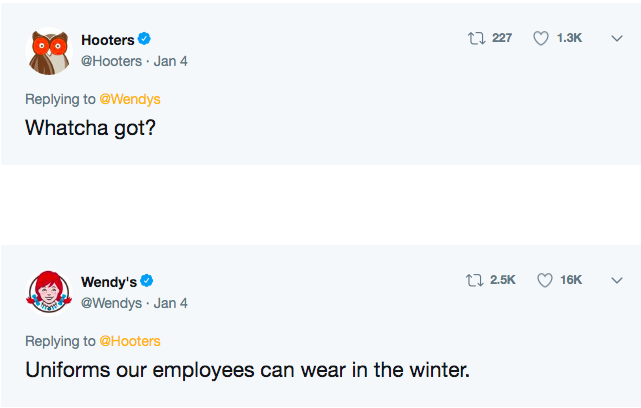 Compliance
Engaging your audience and boosting your brand's reach is one thing but ensuring you are always obeying laws and regulations is paramount. This is particularly critical in sections such as finance which is heavily governed. If your sector is strictly monitored, it's highly recommended you employ an agency to safeguard your content and ensure you are not breaking any market regulations. Even the slightest mishap can cost you, both financially and in terms of reputation.
My agency Contentworks is savvy on laws and regulations around the globe. We can verify that your brand is adhering to any sector directives. Read more about our financial services or get in touch to learn how we can help your brand in any industry.
Listening
A great social media marketing agency does more than just strategise and engage your audience. They listen to. Utilising the best social media management tools, like Agorapulse, an agency can easily pull data. They can:
Listen for keywords in your niche
Monitor mentions of your brand name or products
Measure your audience sentiment and popularity
Tell you what your audience is talking about
Detect reputation management issues or potential PR problems
Present your social media data in easily comprehendible reports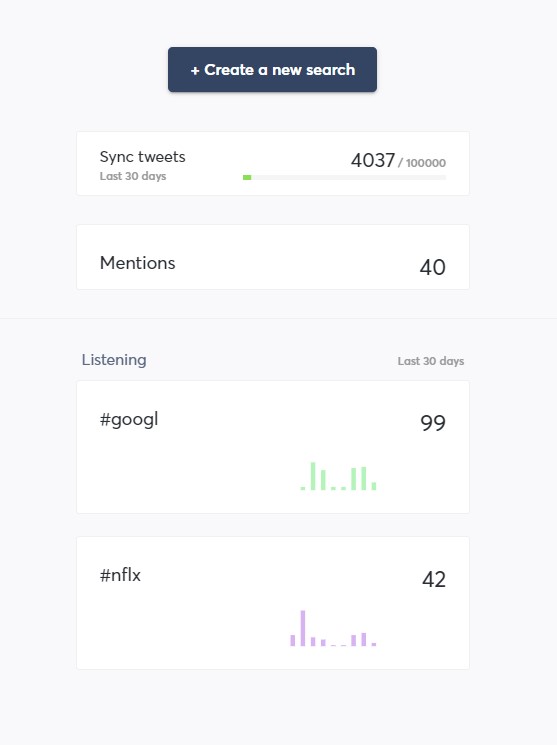 Round of Applause: Reaping the Rewards
Once you've got your ideal strategy off the ground it's time to celebrate. But don't become complacent. Monitoring and tracking your brand's performance is essential. You should always know exactly what you're doing right, and what you could be doing better. Analysing your marketing data such as audience reach, leads generated, and engagement such as likes and shares will tell you how successful your strategy has been.
Once you obtain these valuable insights, it's time to put them to use. Create tangible objectives for your brand based on the data. If you struggle to analyse and put to use data, a social media marketing agency is definitely the way to go. Not only can a good agency provide you with easily digestible stats but they can share insights on how best to utilise this data.
Get in contact for help with your social and content marketing.
Enjoyed reading How Can A Social Media Agency Help Your Brand? Go ahead and hit share.