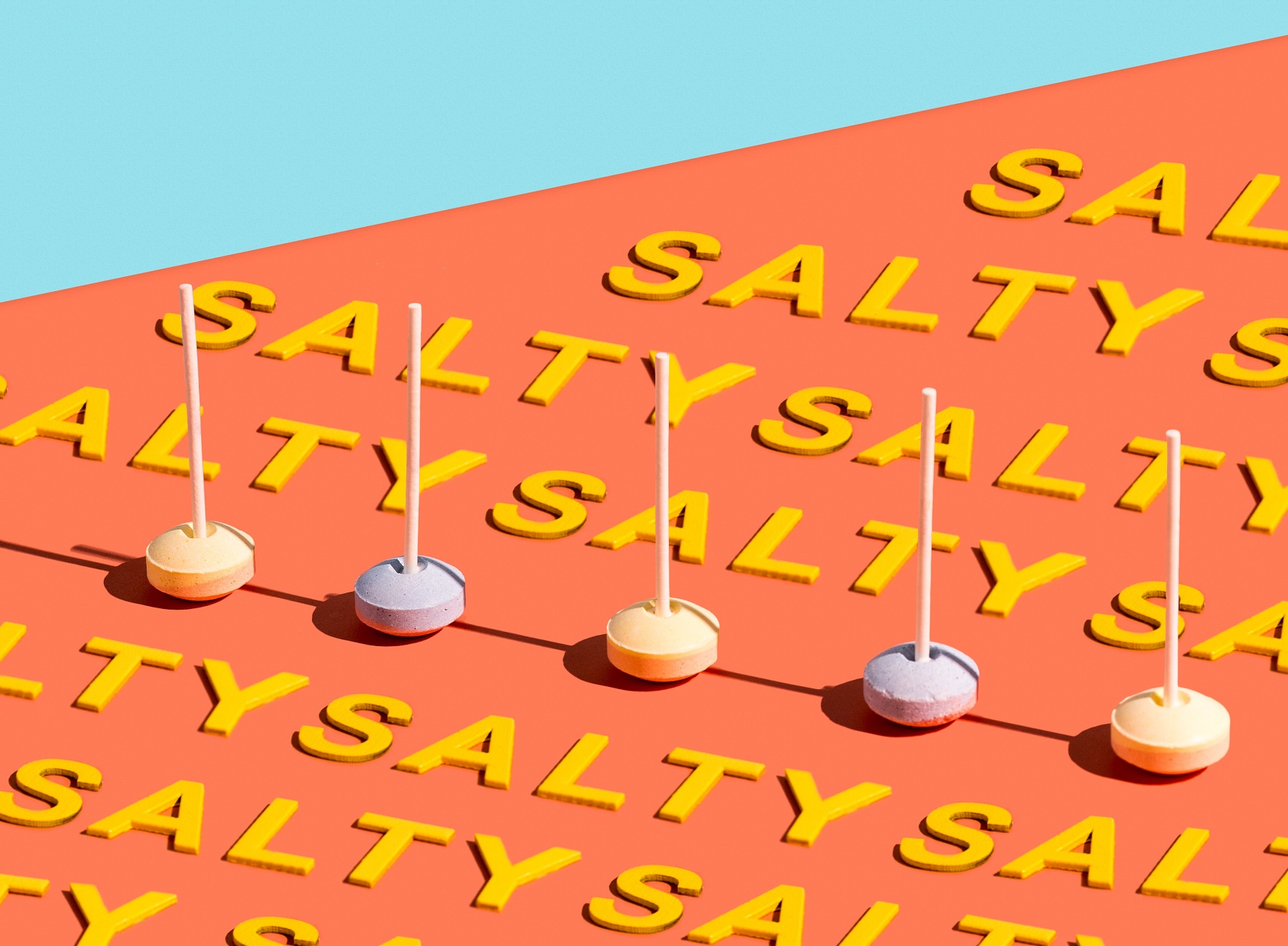 Social Media
Suck it up Buttercup – Meet the Saltiest Brands on Social Media
Social media is the perfect place to showcase the personality of your brand, but not all brands are born sweet. From snapping back at rude consumers to trolling competitors, I'm here for the extra salt on that bucket of popcorn. Meet the saltiest brands on social media.
Aldi
Renowned for their quick-witted humour, on-trend jibes and ongoing Twitter feud with M&S, Aldi doesn't hold back. In fact, consumers have come to know and love the somewhat carefree tone of the brand's socials. Their recent post about hacking the National Alert test was genius, receiving 24,000 likes and almost 2,000 comments on Facebook alone. Simple, yet effective, Aldi used trending news to make people laugh and to throw a bit of shade.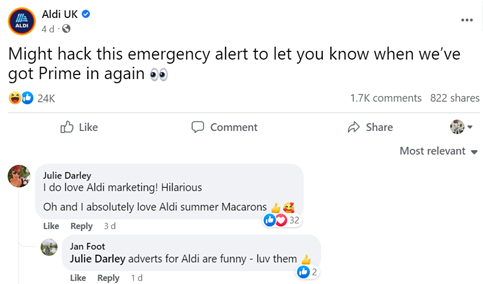 Initiating consumer reactions can lead to more and more engagement as conversations continue.  Responding to comments and keeping topics alive is a good way to stay in the spotlight.
Top Tip: Use social listening tools to find out what people are talking about and to spot trending topics. Then, see if you can come up with funny, entertaining and salty content that'll resonate with consumers and make them smile. 36.2% of people pop on social media to fill up spare time, so why not get a bit cheeky and brighten the duller, more mundane moments in life? Gold star if you can also promote one of your biggest products in the process.
Most recently, Aldi couldn't wait to jibe M&S following a copyright accusation from London pub-chain, The Craft Beer Co. On April 12, 2023, staff at the pub were made aware of a t-shirt being sold by M&S, featuring the chain's trademark name in a graphic on the front and back. This was too good to be true for Aldi who were themselves subject to copyright accusations from M&S over their Cuthbert the Caterpillar cake which was said to be a knock-off of the posher Colin the Caterpillar. D'oh!
The German discount store took to Twitter simply stating, "Oh how the tables have turned." Meow! This tweet alone received 65.9K likes and 4,057 retweets. The tweet also garnered the attention and comments of major brands including Specsavers and Yo! Sushi, with Twitter going nuts for the drama.
Following the Cuthbert settlement an Aldi spokesperson said: "Cuthbert is free and looking forward to seeing all his fans again soon." Oh the cheek. Love how they reignited the caterpillar social media feud over a costume prior to the Coronation.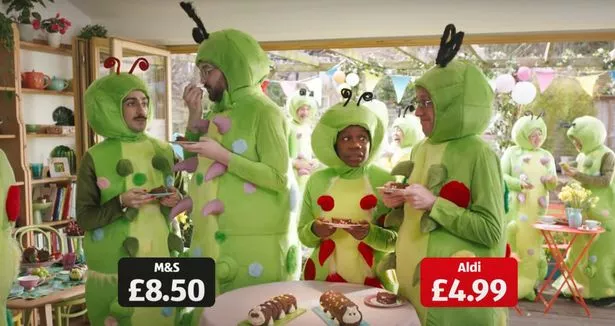 Top Tip: Going in for the slay? Then be careful. Being unnecessarily sarcastic or bitter towards another brand could backfire, especially if you don't usually adopt that sort of tone. A bit of friendly banter can be great for publicity, however, big brands like Burger King Vs McDonald's have well planned and well orchestrated campaigns against one another. They didn't just go rogue!
Wendy's
Wendy's knows and owns their marketing tone. Their Twitter bio states: "We like our tweets the way we like our fries: hot, crispy and better than anyone expects from a fast food restaurant." And they're not wrong. Saltiness literally oozes from their digital veins, so let's check out some of the best examples.
When McDonald's announced they were changing their burgers, Wendy's responded, "Where's the beef" to a news retweet. POW. They didn't hold back in the comments section either, jumping on other brands who tried to get in on the action.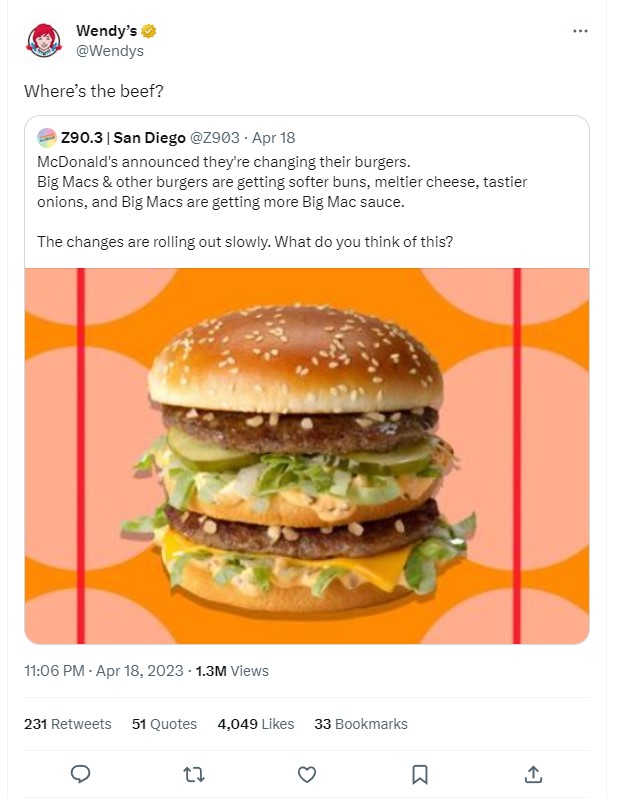 And their response to POF? Savage.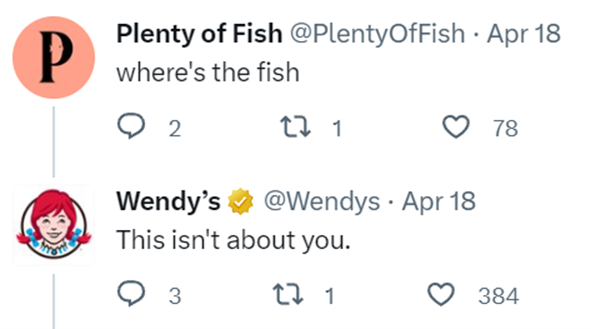 Wendy's also came into their own on #NationalRoastDay, ripping into consumers and brands on TikTok via an all-new branded animation. People were encouraged to send in pictures and videos which could then be roasted between 12-14 April, 2023. A mashup of the best roasts were then posted, receiving a whopping 3.5 million views. This was also shared to Twitter, receiving another 14.7K likes and over 1000 comments. What a great way to play up to your strengths, boost visibility and promote consumer engagement. Stay smokin' Wendy's.
Top Tip: Roasting is popular on Reddit as well as Twitter. Even if you've done something for years, such as celebrating National Roast Day, try to spice up your marketing material to make it fresh and don't just do the same old thing over and over. Bringing the Wendy's logo to life was a really fun way to draw even more attention to their roasting efforts.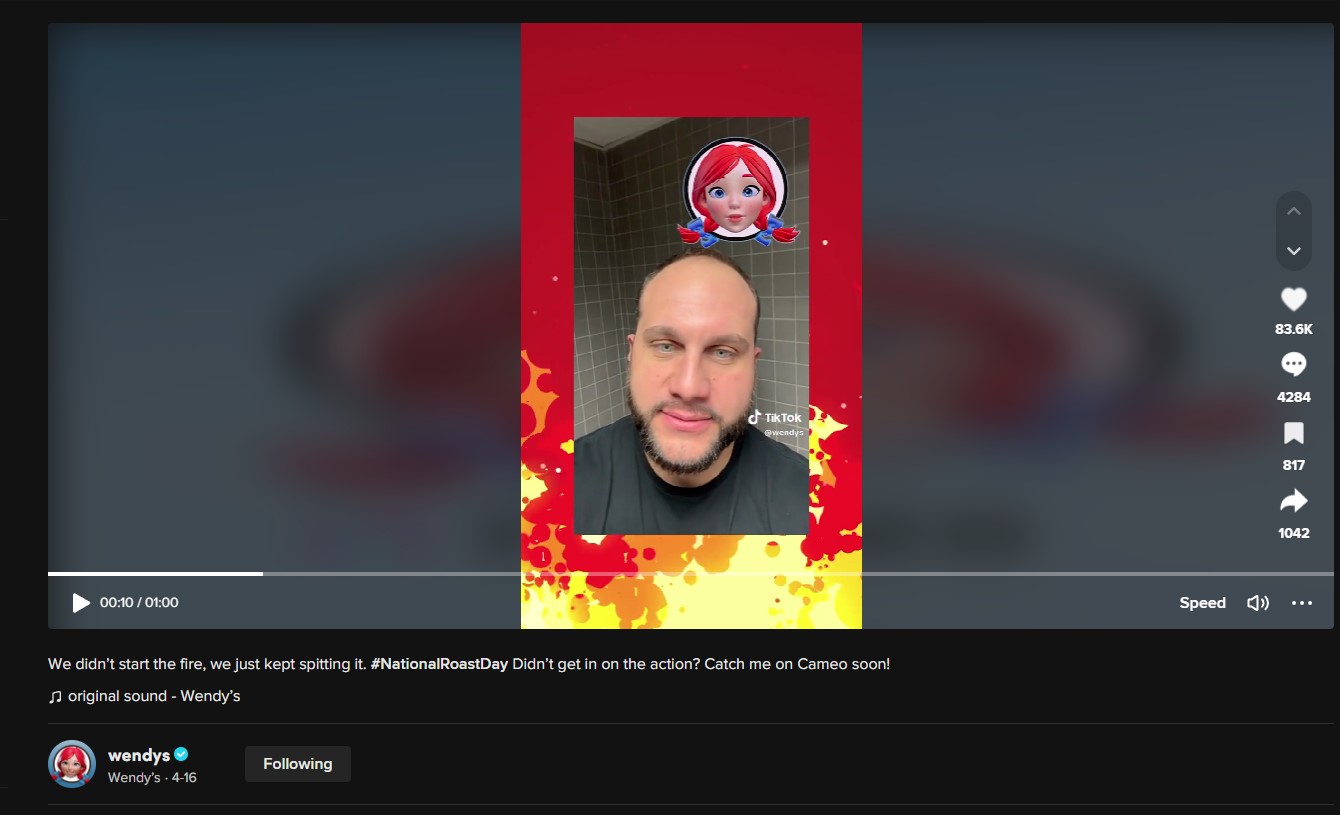 Yorkshire Tea
A Jaffa Cake is the best biscuit for dunking according to scientists. That was breaking news recently but Yorkshire Tea didn't take kindly to this little nugget of information. In fact, they went out of their way to prove the Jaffa dunkers wrong by reposting a sassy TikTok video which proves just how quickly these cakey delights fall apart. In the words of Yorkshire Tea, "We had to scrape it off the counter to taste it." Point made. The revived video has received almost 10,000 views following the brand's current and on-trend tweet. Yorkshire Tea went on to review a whole range of biscuits and TBH I'm here for it.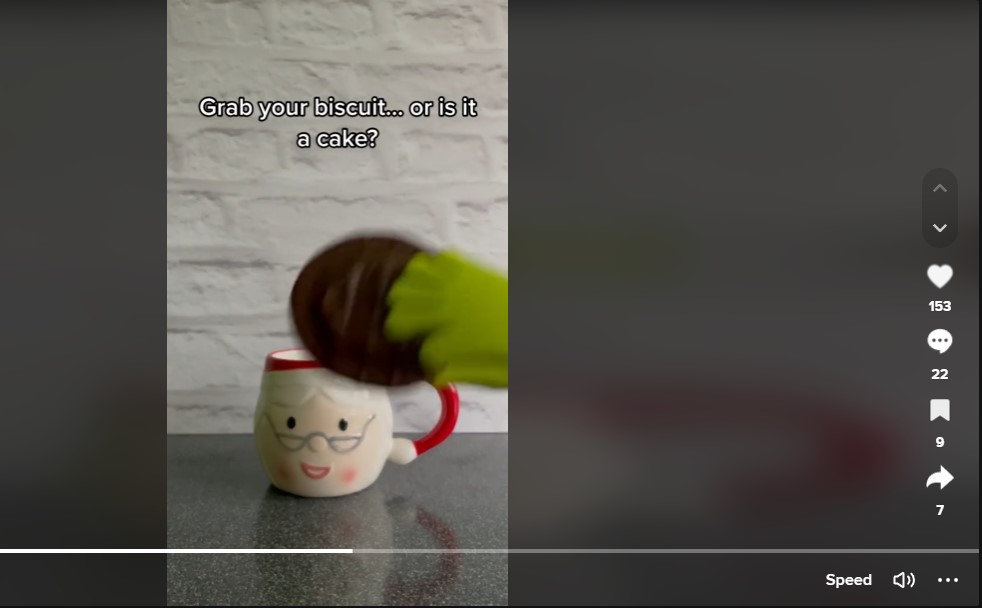 Top Top: Know what's going on in the world around you, stay on top of the news and use social listening tools to be first in on any relevant action. What's more, don't be afraid to repurpose old content where necessary.
Since Elon Musk demanded payment for the Twitter Blue Tick, many brands have been stripped of this verification marker. Instead of subscribing to win back their tick, Yorkshire Tea simply snapped back stating, "We've actually been impersonating Yorkshire Tea all this time, so it's probably for the best." Burnnnnn. Their response sparked many amusing tweets from northern audiences and Yorkshire Tea supporters.
Skittles
Skittles might be sweet, but they're not afraid to get a little salty either. The brand has included their audience in more than one comeback while making themselves the butt of the joke. After taking away the much-loved lime Skittle, the brand made a big deal out of personally apologising to the whopping 130,880 people who complained online. How? By creating a GIF packed with names. They even added "Apologise the Rainbow" to their "Taste the Rainbow". Overdramatic? Sarcastic? Indeed. But genius nonetheless.
The brand continues to play on the 'lime uprising,' using the backlash to their advantage. Take a look at a recent tweet which jokes about taking the lime Skittle away again if they lose their blue tick on Twitter. They even joke that their account is verified because they, 'brought lime back.'
Marketing would like to apologize to 130,880 people for taking away lime. Unfortunately, they can't all fit in a single post.

Download the complete jpg to receive your apology: https://t.co/8enSa8mAB7 pic.twitter.com/He4ns7M4Bm

— SKITTLES (@Skittles) April 5, 2022

Top Tip: Don't be afraid to apologise, even in a humorous way. Unless you've done something really bad. Then a genuine apology is necessary.
Tinder
Tinder has all kinds of users, from those looking to date seriously to those wanting hook-ups. It's an app used by more than 75 million monthly active users. But Tinder isn't afraid to throw shade at some of the more cringeworthy profiles. Check out this Tinder AU TikTok video, slamming those who post fishing pics to their profile. 'Let's stop making fishing a personality trait,' says the brand. Pretty much yep!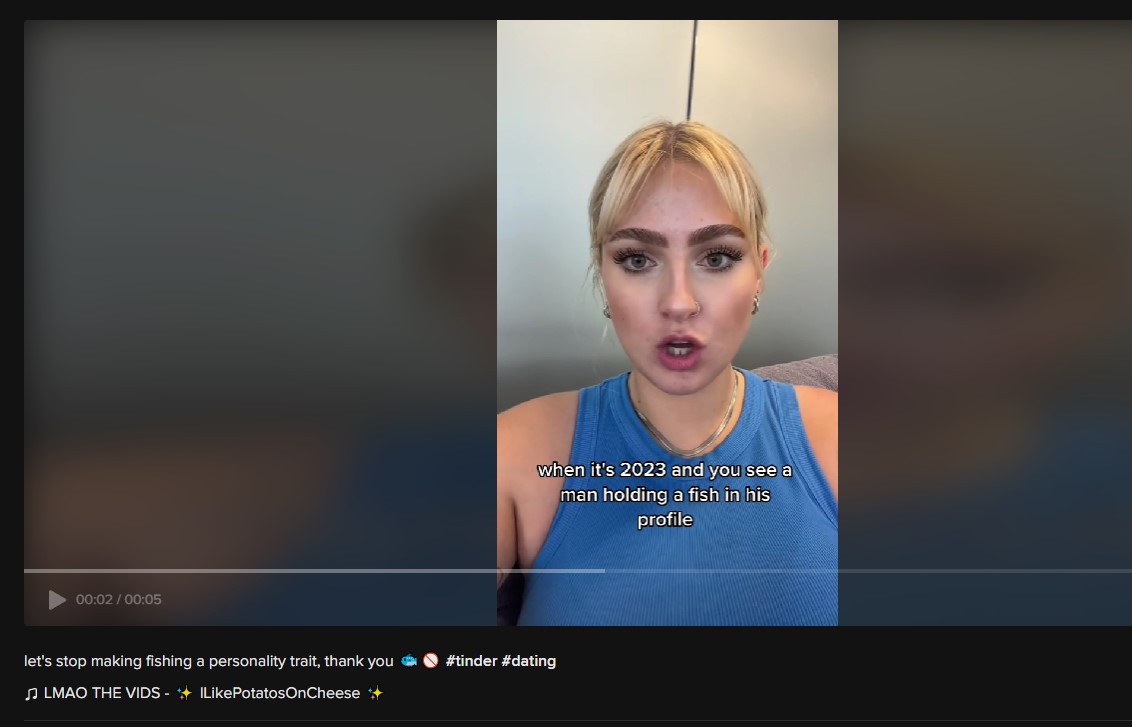 Tinder isn't keen on those sending super short first messages either. Come on peeps, make an effort. Even the dating app itself is bored of you.
Top Tip: Delve deep into data and customer research to find out what people like and don't like about your brand experience. You can then play with this information to create self-aware campaigns – and to make brand tweaks, of course.
It can get super salty online. But what's your favourite brand with 'tude? Tweet me @Charli_Says and share the saltiness!