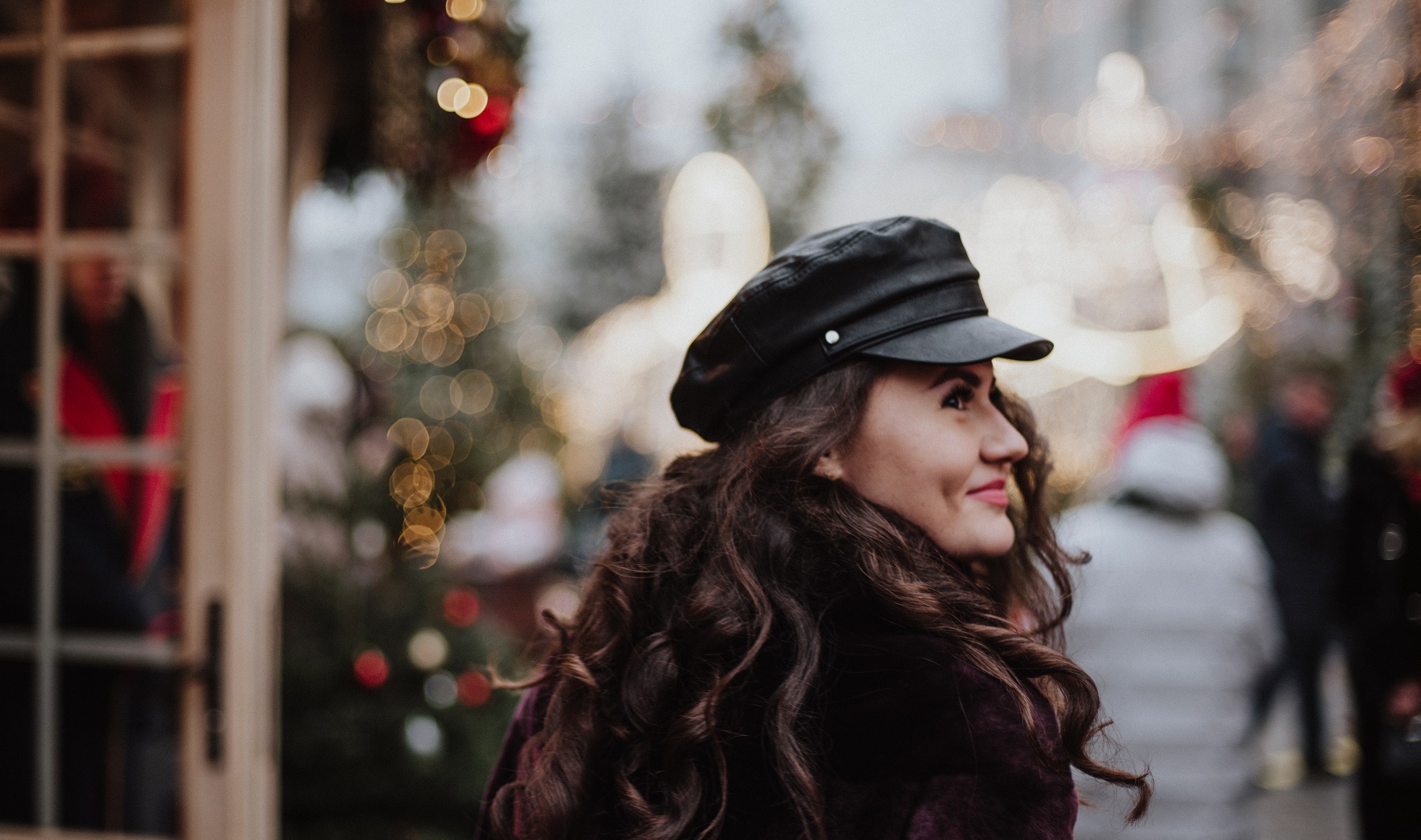 Just Charli
Bringing the Cheer Back to Christmas Marketing
There's been a lot of talk about a Christmas crisis with renewed restrictions, food shortages and rising energy prices dominating the headlines. But following last year's bleak festive season it seems communities are keen to push ahead with 2021 celebrations regardless. In fact, Twitter Business reports that 66% of people are planning for a bigger Christmas this year. All this makes it essential to seize the joy and come up holly jolly campaigns that focus on bringing the cheer back to Christmas marketing.
So, apart from eating mince pies on your lunchbreak and putting a seasonal backdrop on your computer, how can you bring the cheer back to your holiday marketing? Let's delve deeper…
Why Getting Social this Christmas is a Must
Before we sprinkle sparkles over your campaigns and get you in the mood for some festive fun, here's why getting social online this Christmas is a must.
According to Twitter's Festive Holiday Guide 2021, 40% Twitter users say that the platform influenced their gifting purchases, with 69% getting gift inspiration from the brands they follow. So, it's well worth having an active social presence here.
Six in ten Gen Zs did their Black Friday 2021 and Christmas shopping using 'alternative' methods such as Pinterest, TikTok and Alexa, according to research by Brightpearl. Similarly, four in ten people prefer new social buying channels and livestream as they combine entertainment and shopping.
Instagram is among the top five of the 'alternative' channels where Gen Z consumers plan to shop this holiday season. Last December, the social network introduced Shopping in Reels, a feature that lets sellers and creators tag products when they make Reels on Instagram. The platform also rolled out Shop tab ads internationally in August as a means to build out its Christmas e-commerce potential. Read more about this here.
Having a strong online presence is more crucial than ever as people continue to prioritise e-commerce and social commerce amid the backdrop of a pandemic. So here's what you can do to spruce up your campaigns. It's the most wonderful time of the year after all.
#1 Focus on Festive Trends
Covid-tired and sick of doom-scrolling, consumers want to go large this Christmas in a bid to raise spirits and spread light in a period of darkness. Christmas spending will increase from last year with Brits expected to rack up £21 billion on presents and celebrations.
According to Lisa Hooker, Leader of Industry for Consumer Markets, PcW UK,
"Christmas this year may not be completely back to normal, but consumers are determined to make it a good one and many are prepared to spend up to 20% more than last year."
Brands such as TKMaxx have jumped onto this 'bigger is better' trend for 2021 with their #ChristmastotheMaxx holiday campaign. This is an all-singing, all-dancing ad which aims to make this Christmas feel extra special, with a nod to how terrible it was last year. It features a special version of Walk This Way by the legendary rock band Aerosmith (how can you not feel happy listening to that?) and backs the idea that a truly thoughtful gift can unleash absolute joy for the recipient, their family and friends.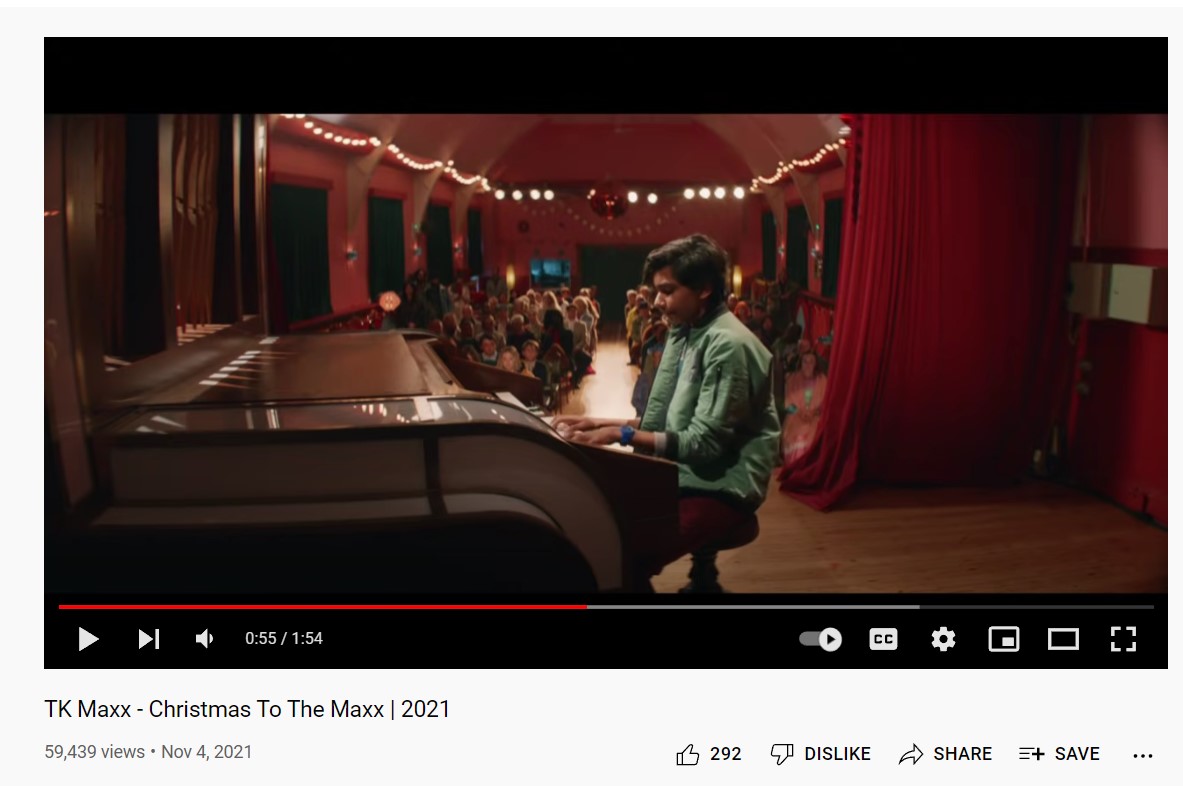 Top tip for marketers – follow your audience's lead and don't be afraid to be a little more celebratory this year. Use upbeat music, bright lights, plenty of sparkle and make sure you have a positive and clear message behind your campaign. It's also perfectly acceptable to humanise your advert by delicately touching on the tough times we've faced. TK Maxx pull on the heart strings well claiming that we 'deserve' to have a good time this year.
Also, don't forget those all-important trending or branded hashtags which will help your content to be found easier and encourage conversation around a specific topic.
#2 Deliver 'Real Magic' Through Livestream
As already mentioned, consumers are looking for fun, innovative and engaging ways to make purchases this year, especially younger generations who are on the lookout for an extra dash of creativity. So it's a great idea to incorporate some sort of live event or livestream moment into your marketing strategy.
This is something Coca-Cola did via their 'Holiday Hub' on December 1, 2021. Debuting their first holiday campaign under the brand's new 'Real Magic' platform,' Coca-Cola hosted a magical livestream experience featuring Santa and friends. This was heavily promoted on social media and led to a specific hub where consumers could watch a YouTube clip of Santa himself promoting the event. The livestream event also confirmed Coca-Cola's collab with fan connection app Cameo in North America. This collaboration also resulted in consumers being able to request a personalised video message from Santa that can be shared online via social media or text message. What a brilliant way to spread Christmas cheer as well as staying trendy and relevant!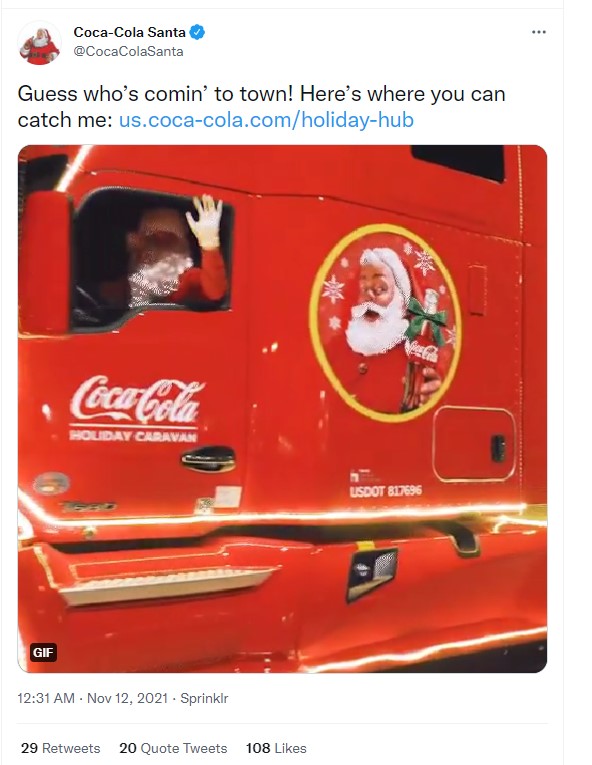 Top tip for marketers – if you're hosting a livestream event this year, don't forget to promote it online including important details such as the time and the place. It's also a good idea to include a countdown clock next to a strong call to action as this will encourage excitement and FOMO which should ultimately lead to increased participation. Make sure everything you do is on-brand also. Check out Coca-Cola's classic red, white and black branding which runs across all channels.
 #3 Keep Your Campaigns Fresh and Fun
People need cheering up left, right and centre. So what better way to brings some festive joy than with new, special or limited edition products? This is something that Krispy Kreme do exceptionally well, whether it's Halloween, Thanksgiving or Christmas. They've recently released their Let It Snow holiday donut range which includes Patty Penguin, Snowman Smile and Santa Belly, all designed to help you feel merry and bright over Christmas.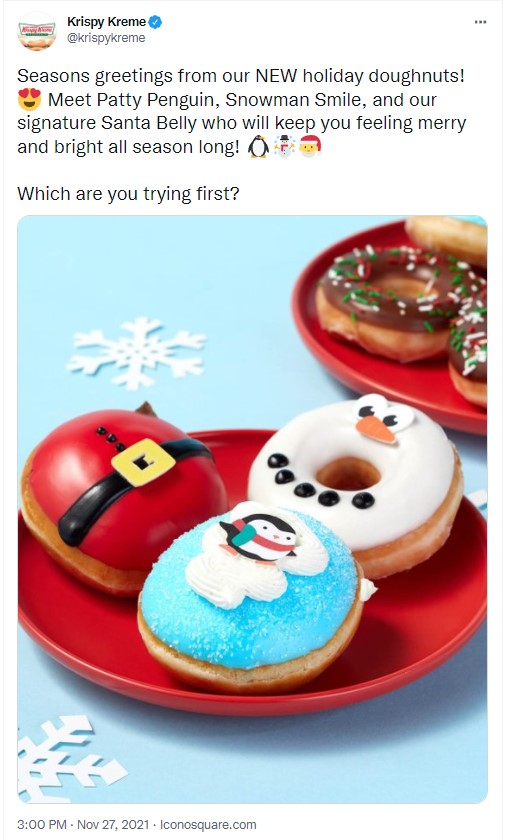 As well as coming up with relevant products for the festive season, it's important to promote them through:
Crystal clear, attractive photography
Short video clips which can be posted to social media
Plenty of festive puns and seasonal language as well as emojis and gifs
Live interaction across channels like Instagram
How-to series of how your product can be enjoyed. If you're a food and drink retailer you may even want to post unique recipes which include your festive treats as this will give people yet another reason to try something new.
Top tip for marketers –Don't use your  campaign spot as a place to promote covid apps or passports. Boo you Tesco!
#4 Share the Love this Christmas
A small gesture can go a long way. So use this concept to create a clever marketing campaign that'll not only promote kindness but also improve brand awareness? Costa Coffee, for example, is giving away 1 million drinks via their app this festive period for consumers to gift to their loved ones. All you have to do is open the Costa Club app and check for a free coffee to share in your rewards. This is a simple yet effective way to encourage Costa Club membership while keeping the brand firmly in the public eye.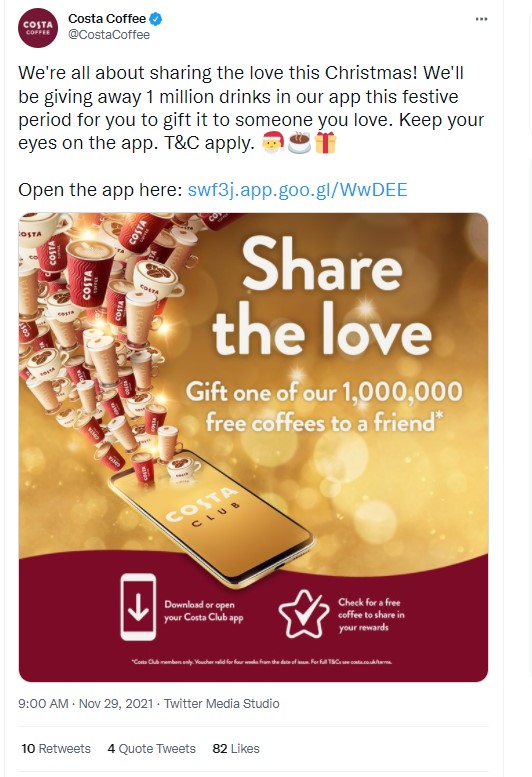 Top tip for marketers – Keep your marketing messages simple. Something like 'Share the Love' is short, sharp, catchy and bang on trend at this time of year. Also, when creating your marketing visuals, don't forget to highlight the key elements of your campaign. Costa Coffee makes it clear that they're promoting 'gifting' and that they've 1,000,000 free drinks to give away. Note how all the 0s adds to the wow factor.
#5 Pop Your Christmas Charity Hat On
We all know a puppy isn't just for Christmas and the same applies to charitable giving. As a brand, it can work in your favour to have some sort of ongoing campaign that gives back to the community. After all, 73% of consumers say brands must act now for the good of society and the planet, whereas 53% will spend more with brands that take a stand.
That said, Christmas is a good time to kick start a charity campaign and to give back to the community at this special time of year.  Stella Artois' beautiful Christmas campaign highlights its longstanding partnership with Water.org, a charity that provides access to safe water for people in the developing world. Its "Give the Gift of Time" ad—narrated by Matt Damon shines a light on the 771 million people who still don't have access to safe water. The spot also reassures us that every time we buy a beer this Christmas, we'll be funding one month's supply of clean drinking water. So treat yourself to a 12 pack and you've covered a full year…you legend.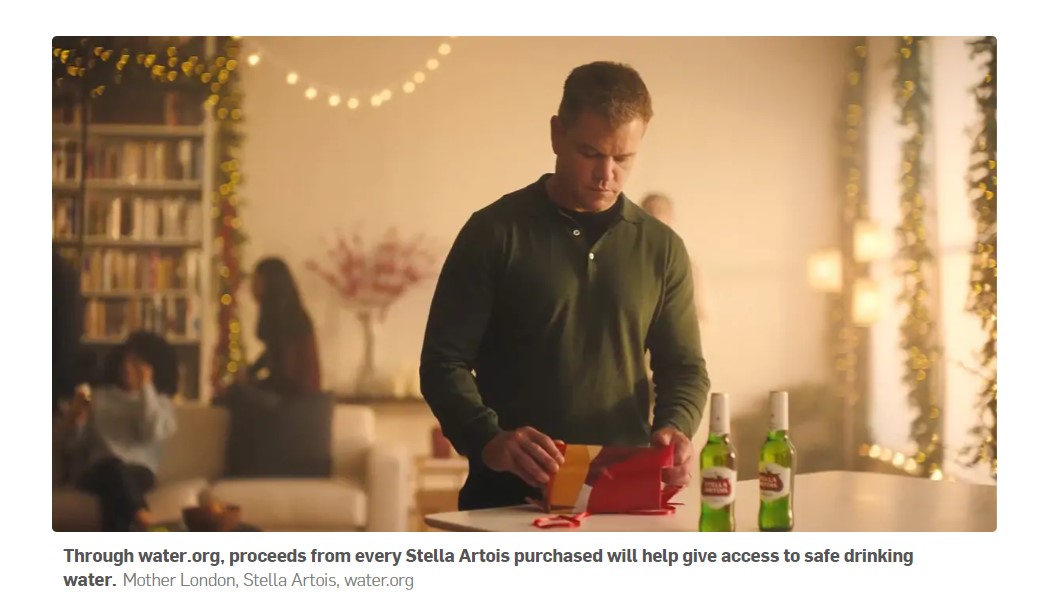 Meanwhile, John Lewis is donating 10% of the profits from the sales of a sweater that features in its Christmas ad Unexpected Guest to FareShare and Home-Start. And, for #GivingTuesday, Dominoes, as part of its first-ever Christmas ad campaign, is matching customer "doughnations" to its long-standing charity partner, Teenage Cancer Trust.
The Knock-On Effects of Running a Happy Marketing Campaign
If you're a marketing or social media manager feeling tired and rundown, you're not alone. Every day you're exposed to some level of doom-scrolling with constant access to social channels making it really hard to escape all the bad news circling.
Running a happy marketing campaign designed to fill your audience with Christmas cheers is a form of escapism. It's something that'll take you away from fear-mongering and transport you to a magical and creative world where you can let your imagination fly free. You've been through a lot this year (again), so take some time to enjoy what you're good at and get those much deserved Christmas results.
What have been your favourite Christmas campaigns so far this year? Tweet me @Charli_Says and let me know. Enjoyed reading Bringing the Cheer Back to Christmas Marketing? Go ahead and hit share.