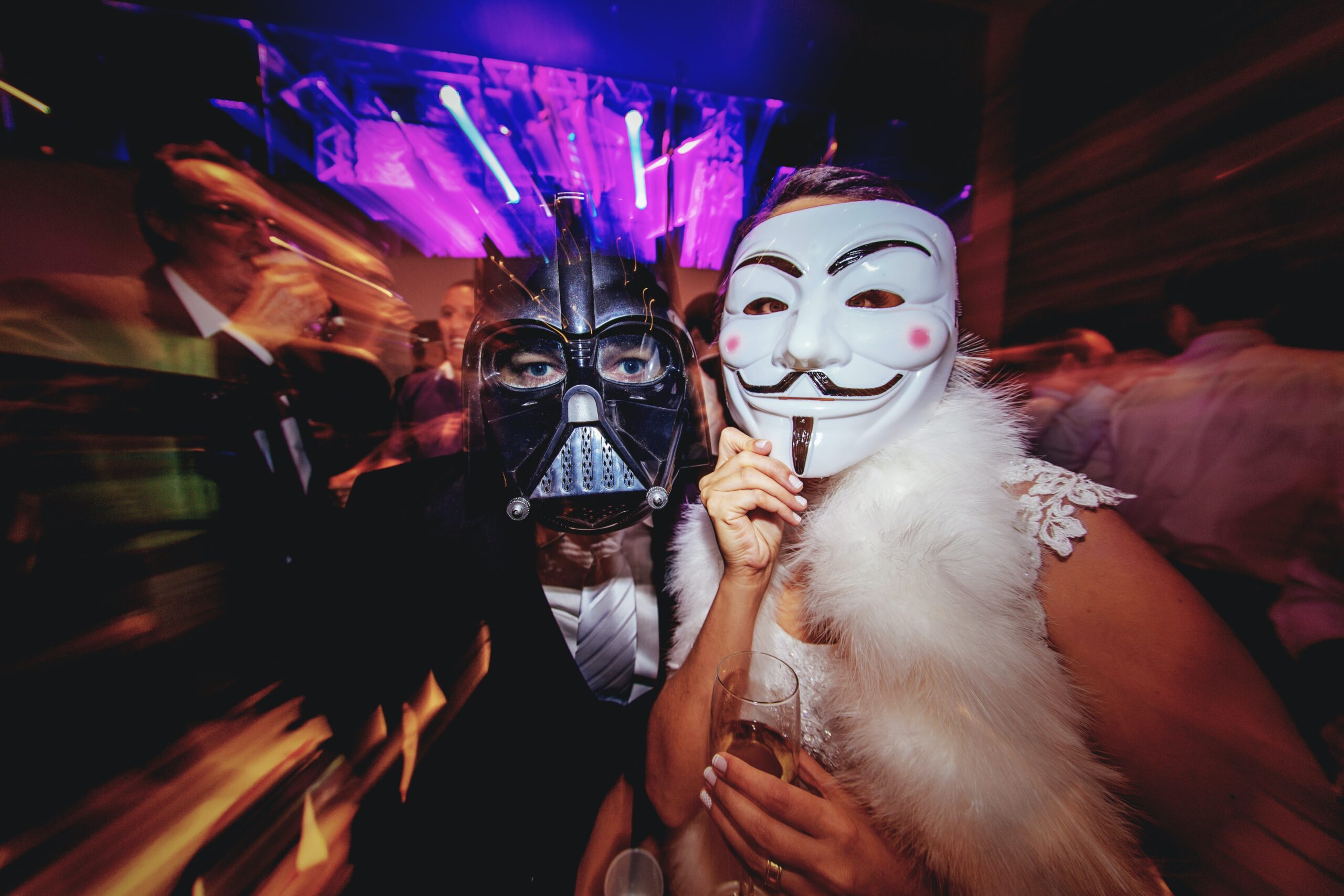 Now is the perfect time to launch your Halloween marketing campaign. People are on the lookout for ghoulish goodies already with 33% of consumers doing their Halloween shopping three to four weeks in advance, 27% getting it done two weeks in advance and 14% getting their spooky shop on a week before the scariest day of the year. It's the season for creepy content and spine-tingling socials. So let's take a peek at some of the coolest Halloween campaigns of the year.
Lottie London – #BloodForBeauty
If you're going to do it, do it properly right? This is exactly what Lottie London did last year with their innovative and appropriately themed #BloodForBeauty initiative. In a collaboration with Warner Brothers, the brand encouraged the #lottiesquad to donate blood for a chance to get their hands on the then new Vampire Diaries collection from the Love Sucks range. All fans had to do was share an image of themselves at a blood donation site on Instagram or TikTok with the hashtag #BloodForBeauty. Donors were then contacted via DM by Lottie London with details of how to receive the collection.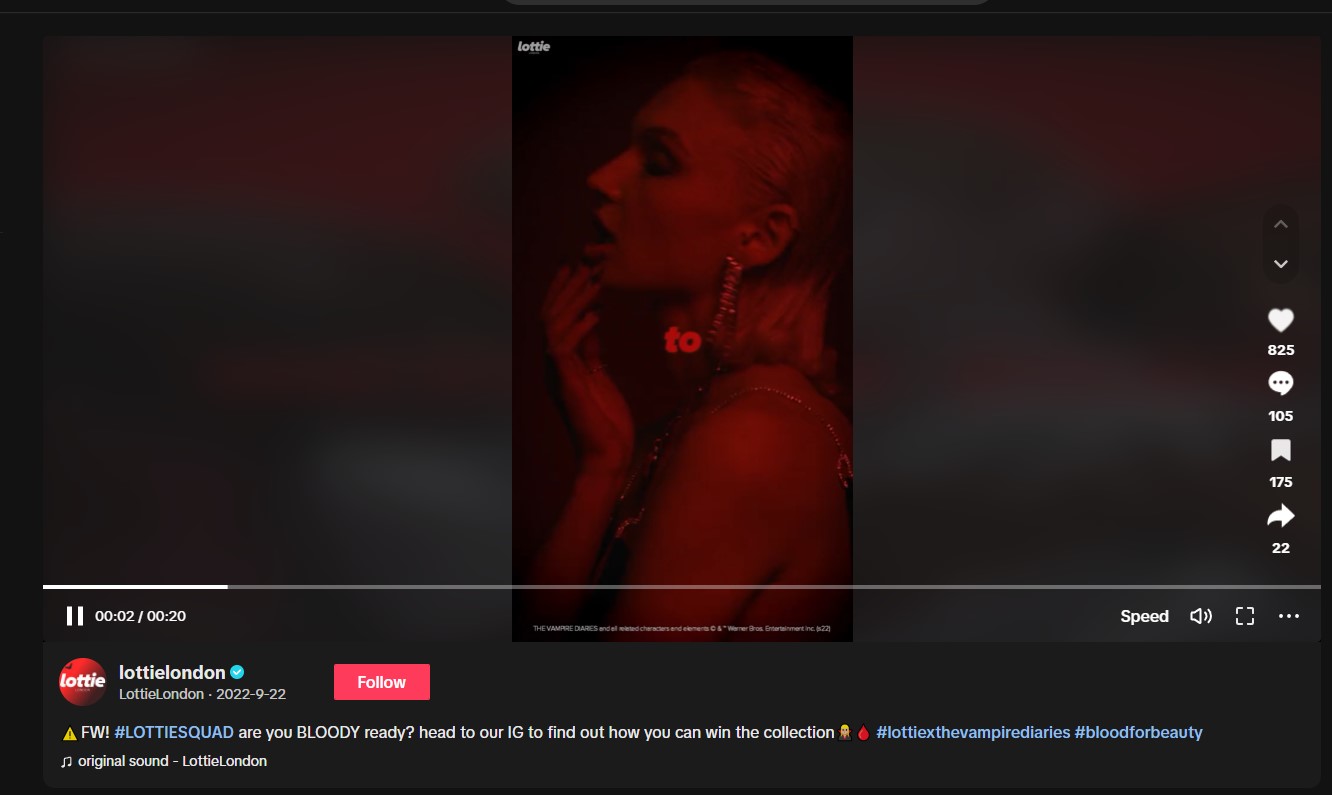 This campaign rocked because:
It tapped into the mindset of their Gen Z audience. According to statistics, 62% of Gen Z trust companies that demonstrate social responsibility and Lottie London were quick to share their social mission. A post on their campaign page stated: "Statistics show that in the UK, one million more blood donors are needed over the next five years to ensure patients receive the right type of blood to save and improve their lives, with a particular need for Back African, Black Caribbean and younger donors." Lottie London made their goals clear while promoting a new product in an effort that was masterfully executed.
It utilised the correct channels. 43% of TikTok users and over 60% of Instagram users are Gen Z, so it made sense to target social channels that appealed to younger audiences. For optimum engagement, find out where your followers hang out – and at what time of the day. This will help you to post during periods of high visibility. Create consumer personas using recent data to build a picture of the type of person you're targeting and what content they might want to see on each channel.
It moved with the times. #BloodForBeauty is back for 2023. Only this time, Lottie London is working with the NHS And Transplant to raise awareness of the need for black heritage donors to help people with sickle cell disorders. Promotion of this campaign on TikTok and Insta kicked off early, giving people plenty of time to donate.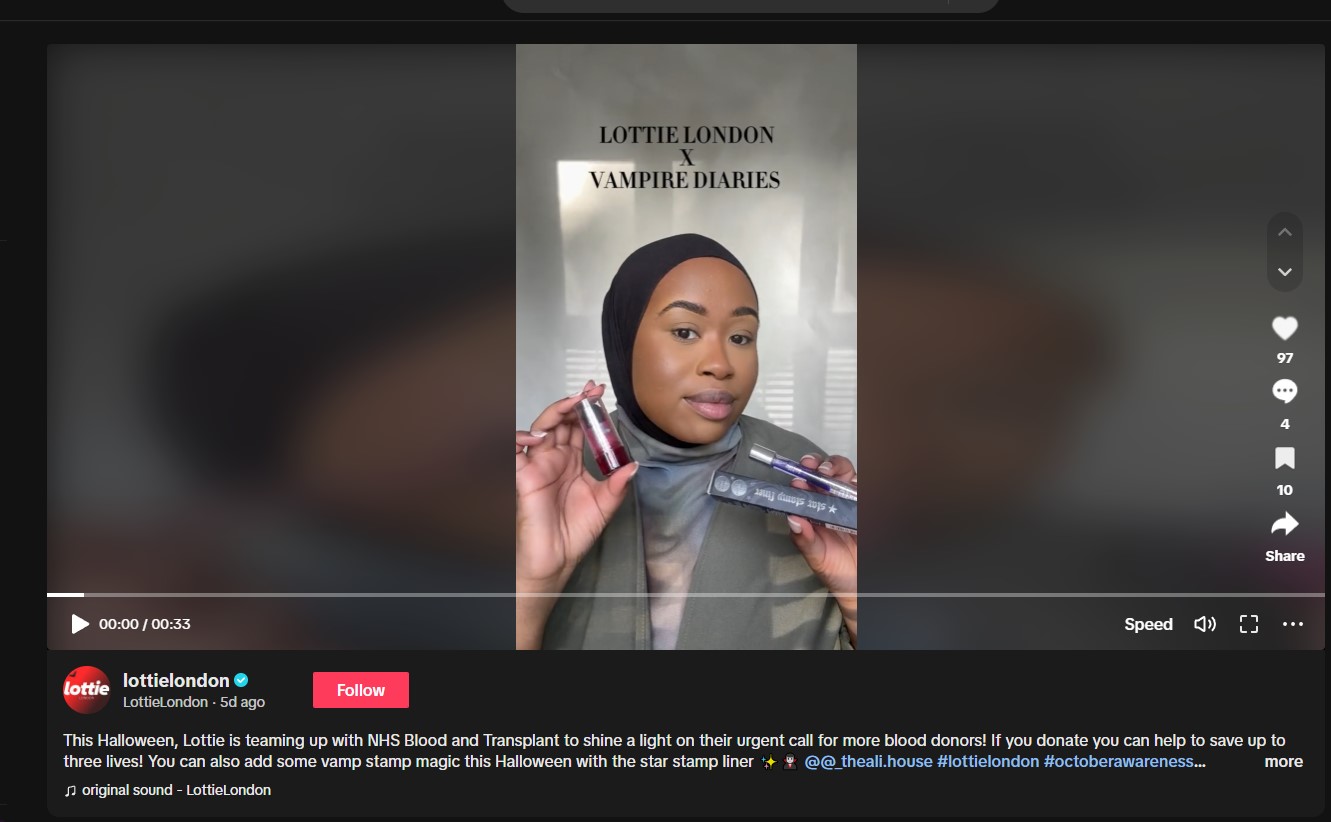 It was community focussed. Lottie London understands the power of social engagement. In a bid to tap into the digital community, they reached out to fans and followers of #vamptok, encouraging them to get in touch if they wanted to be part of The Vampire Diaries Halloween campaign. According to reports, they had 'a huge volume of applicants." Use social communities for content generation. By joining groups or following hashtags related to a specific topic, you can find followers willing to drive your campaigns forward.
Papa Johns – The Stranger Bling Necklace
Halloween isn't just for pumpkins and parties. It's for pizza too and Papa Johns made this very clear with their Stranger Bling promotional campaign. Drawing inspiration from their garlic dipping sauce and 80s horror films, the brand launched a talisman-style sterling silver necklace designed to 'protect the wearer against supernatural spirits and possessed Halloween pizzas.' Check out their 2022 Halloween ad, Jack, if you've never seen a possessed pizza before. It's really quite something and was met with high praise from fans.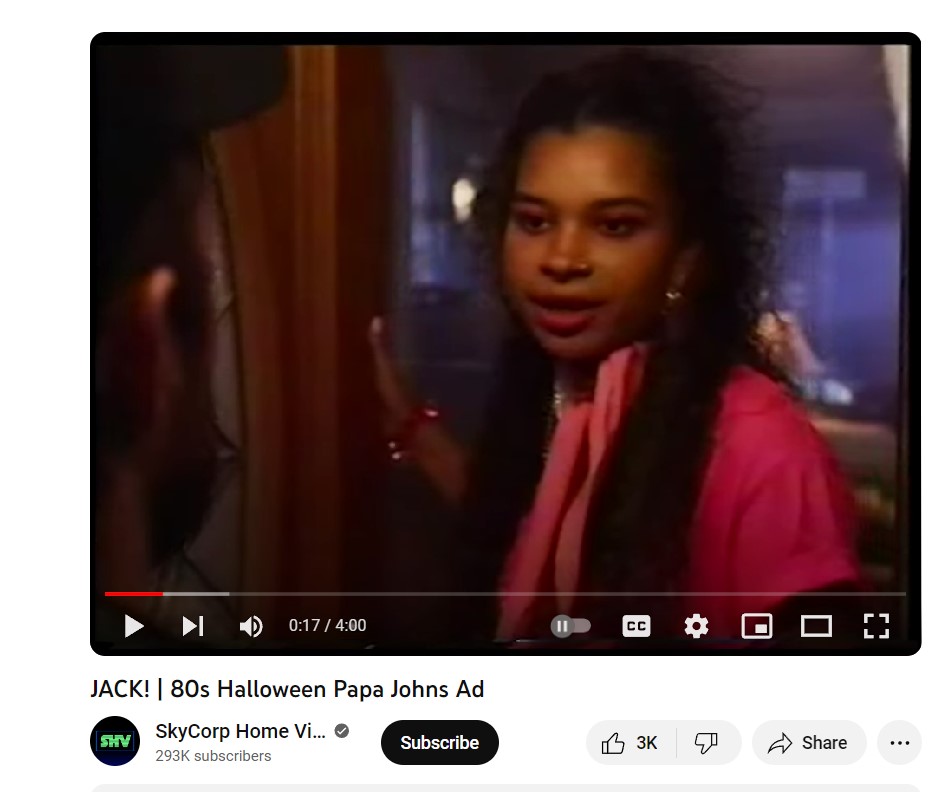 Extremely silly and over the top? Well yes. But if you can't have a bit of fun at Halloween, when you can you?
This campaign rocked because:
It served up nostalgic humour. Papa Johns focusses on adult consumers, typically between 18 and 44. This means a large majority of brand supporters will very much remember the 80s and appreciate a throwback ad. Nostalgic marketing draws people closer, so don't underestimate its power. Comments on the YouTube video confirmed the authentic nature of the video which was resurrected for the Stranger Bling campaign and created by YouTube film specialists SKYCORP.
If it's right for your target audience, strengthen campaigns through nostalgic marketing. Ideas include using retro imagery (Burger King recently reverted to an old-looking logo to reflect its history). You can also feature old-fashioned toys, games and technology in your campaigns.
It featured a one-of-a-kind keepsake. Taking cues from gothic jewellery, the Stranger Bling necklace was forged in oxidised 925 sterling silver, a precious metal believed to repel vampires and werewolves. It was also hinged to replicate the opening and closing of a real sauce pot and was featured in a teaser film before Halloween. What a cool way to get eyes on your brand. Don't underestimate the power of video marketing. Recent stats show that 52% of people are more likely to share video than any other type of content. 66% of consumers have also watched a video to learn about a brand or product.
 Liquid Death and Martha Stewart Candle Campaign
There's a whole lot of noise online. So how can you stand out from the crowd this Halloween and really be seen? Well, you might want to take a leaf out of Liquid Death's spellbook as their 2022 Dismembered Moments Luxury Candle campaign featuring Martha Steward was watched a whopping 646K times on YouTube alone. Why? Because it was weird, unexpected and downright fabulous.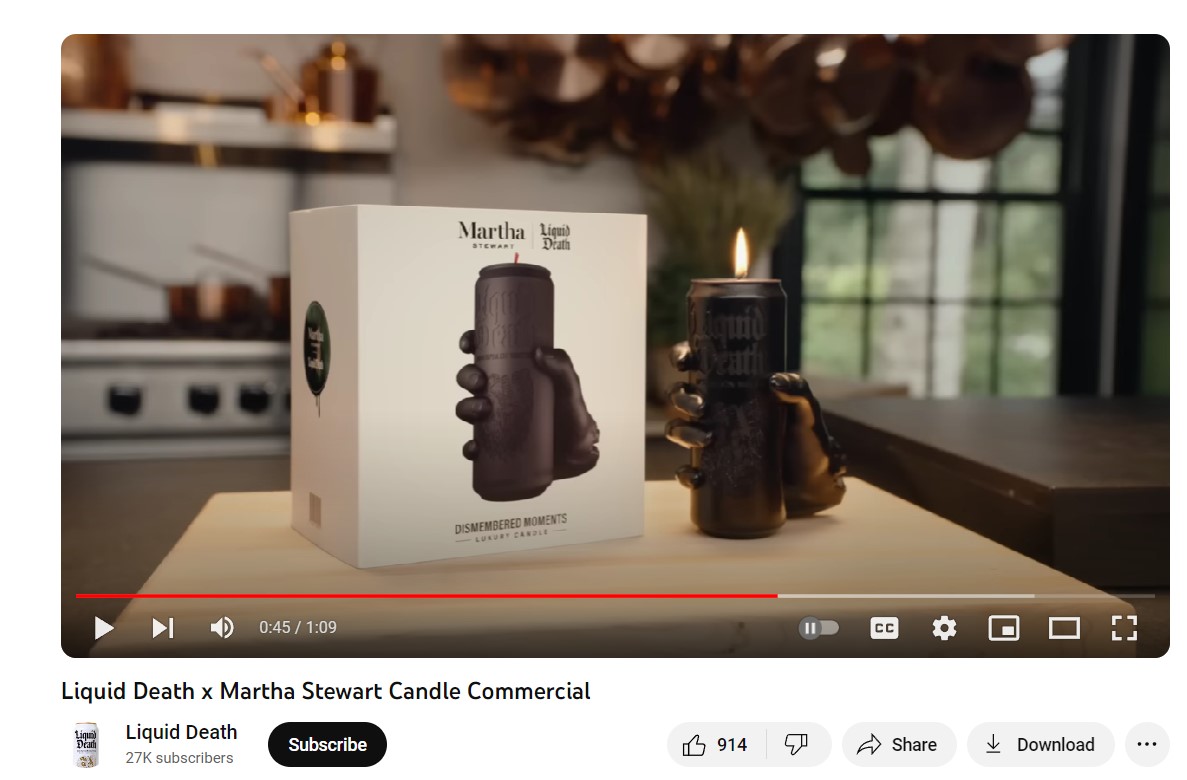 This campaign rocked because:
The colab was wild. Martha Stewart is a 'homely' kind of lady. One who creates wholesome recipes and offers up home decor tips. She's also a hugely successful business woman with a whopping 4.1 million followers on Instagram. So Liquid Death seized the opportunity to work with Stewart in a bid to attract a whole bunch of new views. And it worked wonderfully. Despite the gory nature of the video, Stewart never broke character. She maintained composure throughout with her good nature contrasting brilliantly with the subject of the advert.
The product was good. Strong marketing is a must. But your product must also be good to attract rave reviews and further interest. Liquid Death managed to create a seasonally appropriate candle of a severed human hand holding a can of Liquid Death, complete with a red wick. This was seven inches tall with an estimated burn time of 60 hours. What's cool about branded products is that they serve as a continuous reminder of a brand's existence. The candle retailed exclusively on Martha.com, showing how Liquid Brand tapped into the entrepreneur's fanbase to improve brand awareness.
So, you've seen the big brands in action. But what can you do to make sure your Halloween is fang-tastic?
Partner up For Halloween Parties
If you're not up for hosting your own Halloween event, or your business is online, you may want to collab with other small businesses to offer a joint event. Or you could consider sponsoring the event, donating merch or providing the food or drink. Bonus points if you support a charity this Halloween. Be sure to pick the right event partner that ties in with your demographic, product and overall ethos.
Run A Photo Competition 
Social media users love to share photos of their Halloween costumes. Running a photo contest, like Petsmart did below, will ramp up your engagement and boost followers.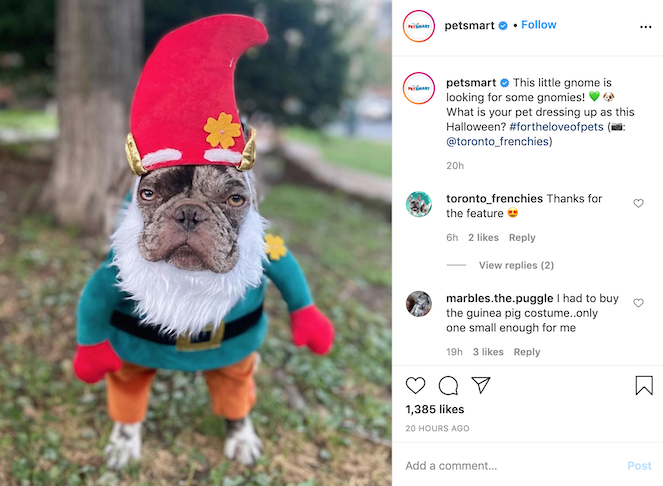 To run a photo contest make sure you:
Have clear rules on how to enter and how the winner will be picked
Guidelines for the type of photos you will and won't accept
A really great prize – ideally you will tie this in with your brand and offer some great company merch!
A solid moderation team to sort through comments and questions.
Use TikTok for Green Screen and Special Effects
The green screen is known for its ability to transport people to another world and with TikTok's green screen effects, you can quite literally use any background – including spooky images from your phone. With your own material you won't have to worry about copyright and can snap a background to suit your campaign. The opportunities here are huge, so don't hold back. What's more, Effect House on TikTok makes it easy to create a whole range of special effects. A TikTok Challenge recently suggested the following theme ideas.
Unique or funny Halloween costumes
Scare-season traditions or pop culture moments
Halloween-themed game or sport
Creepy makeup tutorials
Ghost-hunting with pets
Office pranks and jump scares
Promote Early
You saw the stats. People are wanting to buy now, so don't delay. Here are some creative ways to promote your products in good time.
Teaser videos
Countdowns
Product demos
Influencer promos
Multi-part ad stories (think Papa Johns)
Freebies and giveaways
Exclusive content to followers
A great example of a giveaway for autumn 2023 comes from Krispy Kreme. Followers are being offered a free Original Glazed donut when they buy any dozen. This includes the Pumpkin Spice option exclusively released for Halloween. Nice. Don't forget to bold words like FREE to make them standout and come up with catchy hashtags such as #FreeFall which is appropriate for the start of autumn.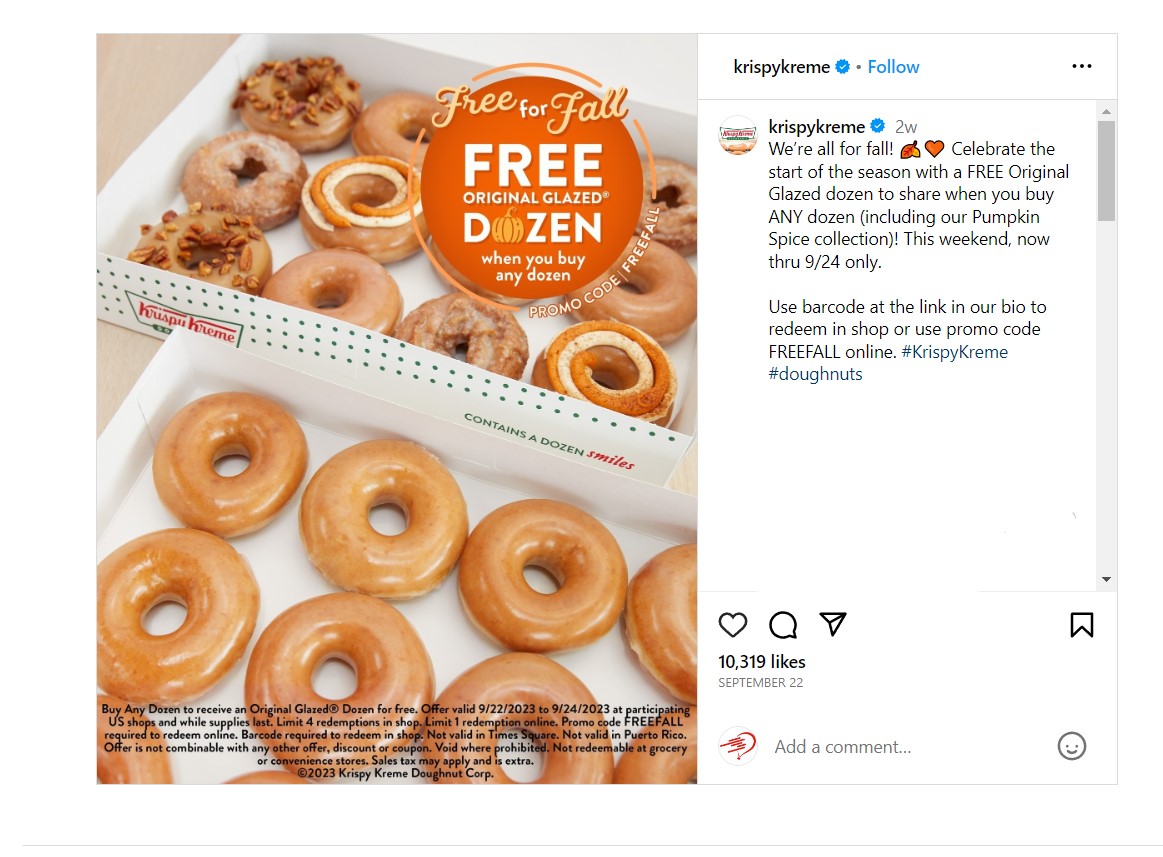 What was your favourite Halloween marketing campaign? Happy Halloween!