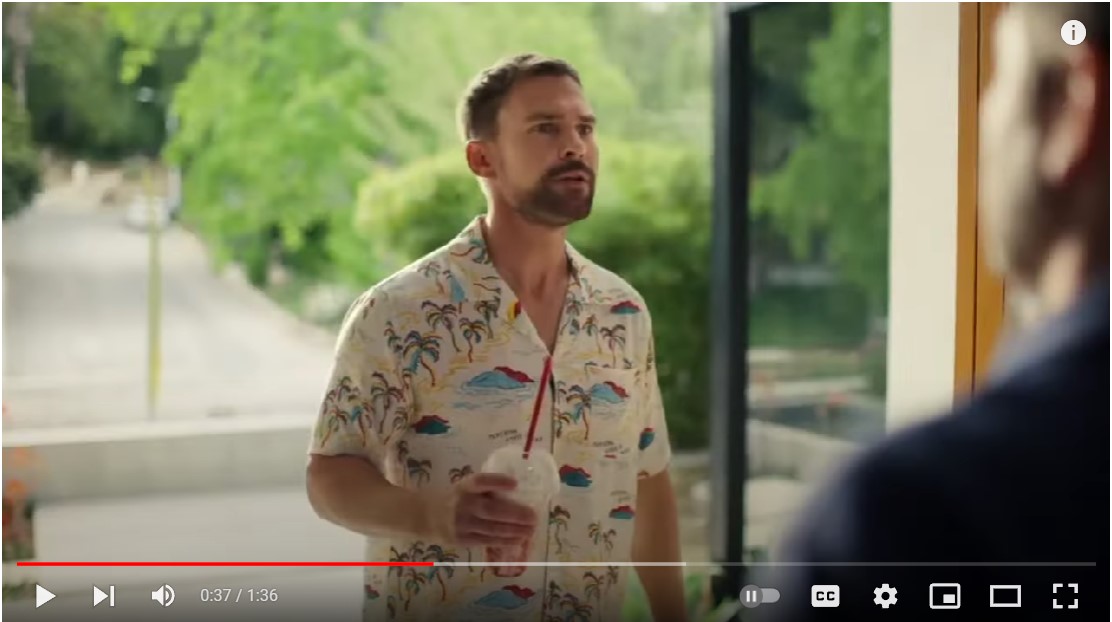 Summer is the perfect time to sip cocktails, jump over waves and throw sprinkles all over your marketing campaigns. With non-essential spending on the rise, consumers want to live their best lives this season despite the cost of living crisis. So give them content so good they'll want to view it even through smeared sunglasses and with arms full of inflatables. Here are five brands that have turned up the heat and are sizzling their way through summer 2023. Grab your shades, 'cos this stuff is dazzling. Here's 5 summer ad campaigns we're melting for.
#1 Great Western Railway – 'Five Get There First'
According to a Nationwide poll of more than 2,000 people, many people still see some luxuries as an essential part of summer. Top things consumers will spend money on include a holiday (29%) and day trips to places like the zoo, beach and other attractions (26%). So travel brands really need to be on their game this season. And Great Western Railway (GWR) is winning this year.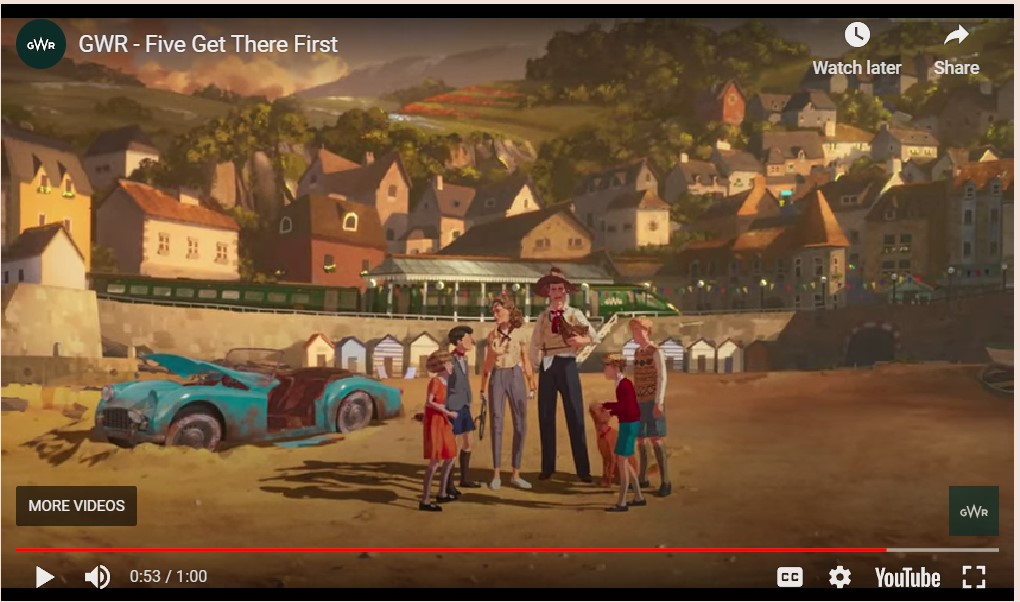 The British train operating company relies on nostalgia and heart-warming humour to inspire travellers to take their own summer adventures using the GWR network. The campaign, created by agency Adam&eveDDB (of prior John Lewis XMas Ad fame!), brings the Famous Five back to screens to showcase the benefits of train travel which include speed, sustainability, comfort and socialising. As the fourth GWR campaign to feature the much-loved Enid Blyton characters, the brand uses continuity to communicate key concepts and ideas.
This campaign rocks because:
It oozes nostalgic brilliance. Despite being launched in 1942, the Famous Five series is still hugely popular, with two million copies of the books sold every year. The campaign resonates with multiple generations and is something that can unite families and friends across age groups. It's extremely inclusive and tugs on the heart strings of those pining for some good old-fashioned adventure.
It boasts clever animation. Meticulous study of the original novels resulted in animation that's familiar, comforting and not different enough to upset audiences. Yet there are enough modern touches for it to not feel at all irrelevant today.
It's an example of cross-platform genius. Marketing efforts include out-of-home and digital out-of-home, press and Influencer activity is also being used to encourage travellers to find 'hidden gems' throughout the South and South West of England. (apparently yet can't find any??)
#2 All Things Hendricks Gin
My, my, where to start. Hendricks Gin is absolutely rocking life this summer. And here's why. Firstly, there's the ad, Depths to the Heights – A Summer of Gin – HENDRICK'S GIN. This encourages consumers to 'escape the conventional and embrace the delectable.' It's a bit like stepping through the wardrobe into Narnia, only to discover a completely magical, off-the-wall 'world of gin' that encourages curiosity and celebrates oddities. Nothing is normal here. And that's OK. Plus the ad is beautifully on-brand considering Hendricks is all about pushing innovation, intrigue and experimentation – just check out The Unusual Times, which is essentially, the brand's blog. Just nothing like you've seen before. There's an old-fashioned meets futuristic vibe that promotes the 'refreshingly curious' message and it's unapologetically unique.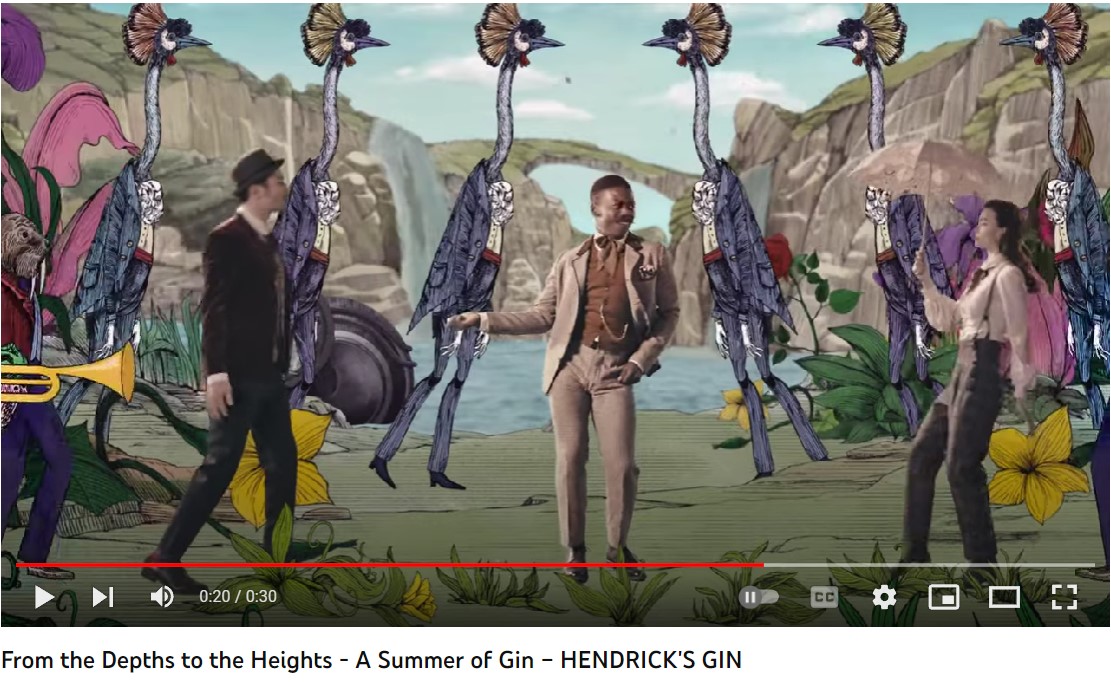 Next up is Flora Adora. As a limited release Scottish gin, Flora Adora has been added to Hendricks' ongoing limited portfolio deemed the 'Cabinet of Curiosities' a name which yet again promotes the 'older times' rhetoric but adds a fresh twist. Lesley Gracie, master distiller of Hendrick's Gin explains how the gin bouquet was inspired by nectar-loving pollinators, stating:
I was fascinated to see how pollinators settled on some plants more than others and it's these blooms that I've carefully selected to create this botanical blend.
Again, the message of curiosity is clear to see here. Inspired by spring but marketed strongly in summer, Flora Adora has become the 'perfect picnic punch.' Complete with fanciful language, pretty imagery and plenty of imaginary content, the Flora Adora landing page is nothing but a masterpiece.
It's quite possible for me to talk about Hendricks all day. Their AI inspired Chat G&T initiative which somewhat ridiculed the ChatGPT craze with witty comebacks and a gin-fuelled vibe was also pure genius. Check it out for yourself t, you won't regret it.
#3 DoorDash – Summer of DashPass 2023
DashPass is DoorDash's membership program that offers zero delivery fees, reduced service fees and member-only benefits on eligible orders. Each week has its own set of steals from fast food spots including Taco Bell, Wendy's and Starbucks plus a bunch of discounts at stores like Walgreens, Dick's Sporting Goods and 7-Eleven. And to celebrate, DashDoor has launched some pretty epic marketing.
First up is the commercial. This features American Pie stars Jason Biggs (Jim Levenstein) and Seann William Scott (Steve Stifler) and taps into nostalgic memories of summers gone by. Considering the target audience of DoorDash is Millennials and GenZ's, most of whom would have seen American Pie in all its glory, the ad's content is fun, relatable and packed with the smutty humour we've come to know and love. In fact, it's pretty risque. But would we expect any less? A toned down 'Stifler' would just be an all-round disappointment. As with GWR, DoorDash plays on memories gone by to connect with consumers and build an emotional brand attachment. In this case then, inappropriate humour remains a reassuring constant. We love how Jim has the house, family and pool and Stifler.. well he didn't change at all!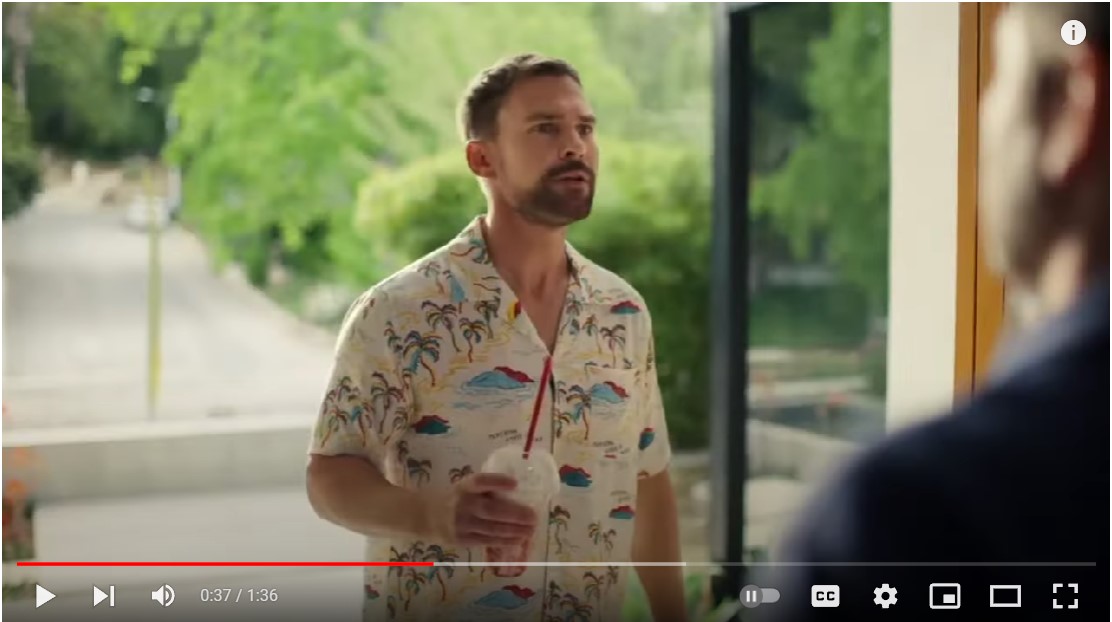 The ad also fits in neatly with the DoorDash tone of voice. Indeed, DoorDash is not a brand that takes itself too seriously. It only takes a trip to Twitter to see the comical posts shared on a regular basis. So if it's a summer of laughter you want, DoorDash delivers. Literally. Oh – and yes, there's even apple pie on the menu. IYKYK.
#4 Thatchers Cider – Pint Sized Perfection
There's nothing quite like a cold cider in summer and Thatchers is on it with their pint-sized perfection campaign. Using stop-motion technology, the brand launched a 40-second animation showcasing Thatcher's intricate production process and attention to detail. The ad took 480-hours to shoot by the studio responsible for national classics such as Wallace & Gromit and Chicken Run and is an innovative little treat for the summer months. Animation is a great way to communicate more intricate or complex topics. It can bring themes and ideas to life and adds a storytelling element which helps to tap into the emotions of consumers.
What's also clever is how the brand went behind the scenes on social media to show the creation of the ad. This garnered a whole new load of views and 'wows' in the comments, helping the stop-motion ad content to work even harder. Great work. It's also a lesson to other content creators to maximise the content they have and look for fun, exciting and innovative ways to promote the good stuff.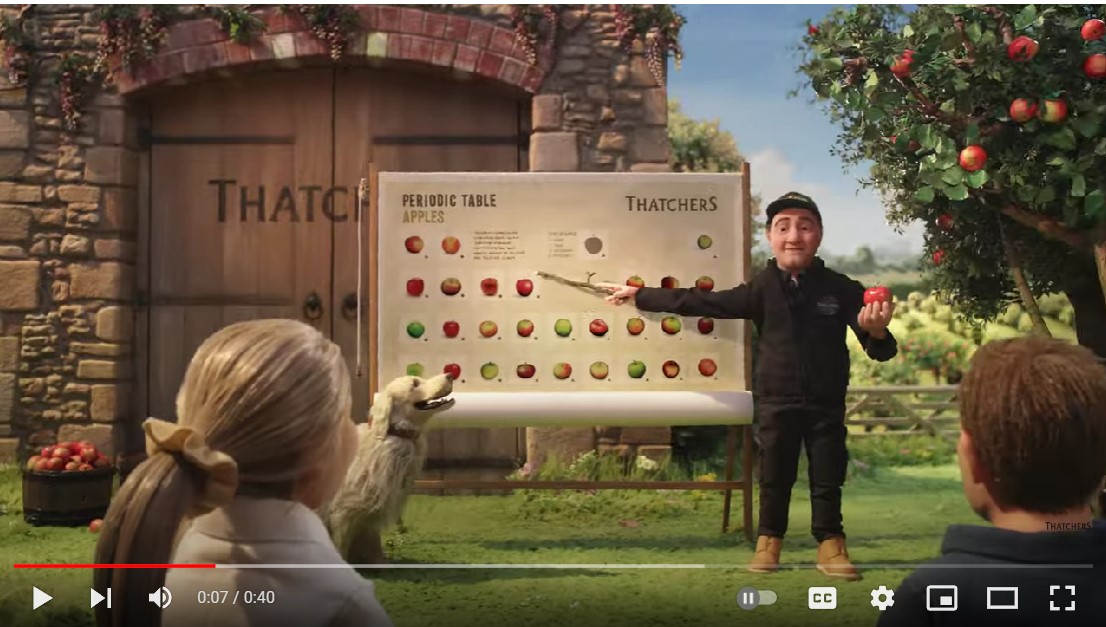 #5 Wimbledon – Always Like Never Before
Is there anything more quintessentially "British Summer" than Wimbledon? Ahead of the 2023 tournament, Wimbledon served homage to iconic championship moments with a new integrated campaign. Spearheaded by a 60-second spot, 'Always Like Never Before,' the ad was designed to boost anticipation through a series of unforgettable moments and past rivalries.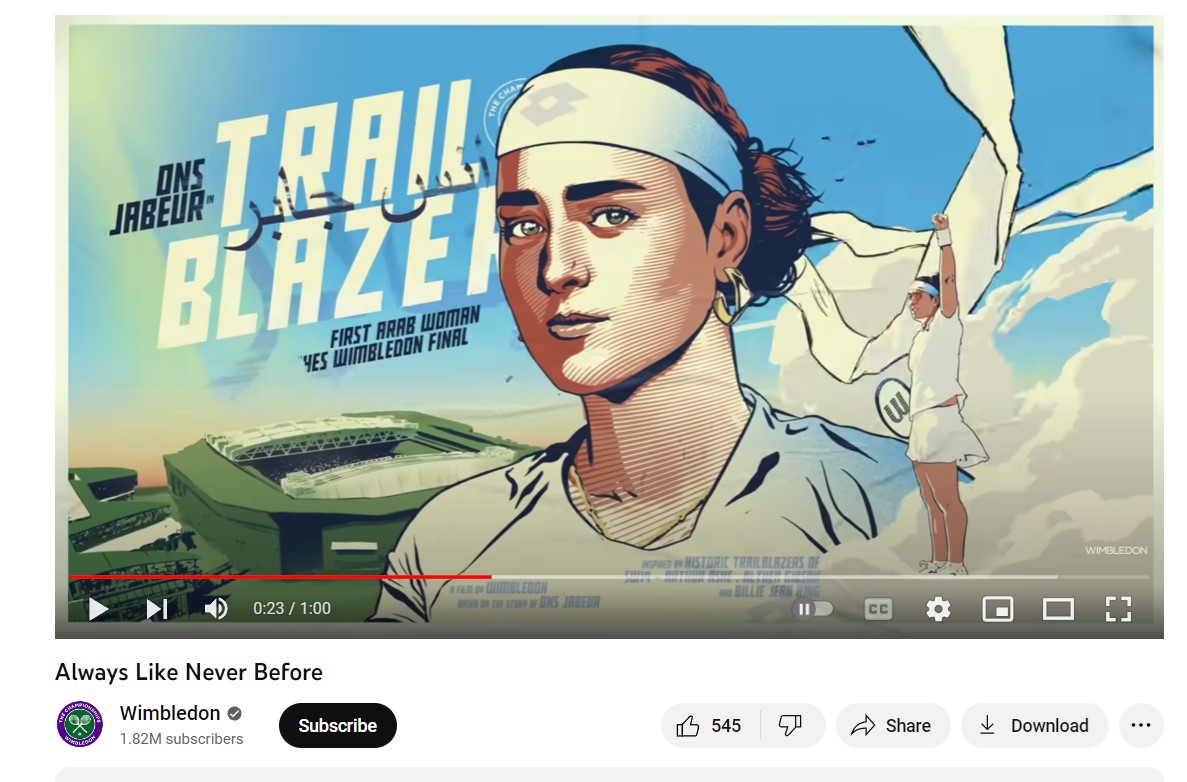 Developed by creative agency McCann London, the trailer uses a mixture of archive footage, 2D posters, 3D animation, CGI and photography to immortalise legendary match-ups that have taken place on the grounds of the All England Club – all while celebrating rising stars such as Coco Gauff, Nick Kyrgios and Alfie Hewett. This made the ad relevant for older and newer audiences alike. Running across TV, out-of-home, digital and social media, the trailer also features an electrifying soundtrack by hip-hop producer, composer and DJ, Hudson Mohawke. To date, it's received a whopping 709K views over the course of one month.
While a high-profile summer ad campaign is essential for sporting events like Wimbledon, campaigns are supported by ongoing content that's engaging, interesting and fun to watch. Regular social media activity helps to support existing campaigns and encourages an uptick in followers. Wimbledon knows this all too well, posting videos packed with 'best bits' and 'top moments' so that people can enjoy the excitement over and over again with just a few clicks. Magical Marketa, featuring the best bits from Ladies Singles' champ Marketa Vondrousova, received a whopping 30K views alone. What's also great is that Wimbledon prioritises Instagram content that's simple, easy to follow and divided into daily Stories. This makes it easy for followers to access tournament updates and highlights quickly whenever they want to do so.
So there you have it, five summer ad campaigns that had us melting. Which one was your favourite? Tweet me (yes tweet not x or post!) at @Charli_Says.