Those of you who follow my channels know that my agency works with leading financial services, blockchain and tech brands. And so if you're among the 39% of content marketers that don't have a documented strategy, it's time for a rethink!  I can tell you that the financial services sector is competitive. Hugely competitive, in fact. Not only has crypto and blockchain shaken the industry and made it one to watch, but new services and products are being offered all the time. Content marketing for financial services is more important than ever in 2019. But how can you hone your strategy? Here are some essential Content Marketing for Financial Services in 2019 tips:
If you want attention, you must provide something of value
Millennials deeply distrust pop-up ads. And with 1 billion web users predicted to block ads within a few years, a different approach is needed. Essentially, if you want to be noticed, you must provide something of value and not simply bombard consumers with irrelevant information.
Look at it from a different angle. Content marketing isn't free to the consumer. Say WHAT? Yes, they trade their time for it and therefore you must earn their attention and not interrupt it. This is easier said that done in a marketplace where consumers average an attention span of just 8 seconds (less than a goldfish) but it is entirely possible. Let's delve a little more into some actionable points.
#1 Focus on quality over quantity
Google loves fresh content. Sure, you want to rank highly on SERPs. But that doesn't mean you need to rattle out a host of boring, unhelpful blogs. Instead, it's much better to grow a loyal fan base who crave exceptionally written and informative content with loads of useful facts.
Loyal followers will keep coming back and are an excellent social promotion tool. Why? Because they're likely to circulate your content. Indeed 94% of blog readers share content they believe will be useful to others. Remember also that 47% buyers read 3-5 pieces of content before making a purchasing decision, so if your blog adds value to your products and services you could see business improve.
When producing a high-quality blog post, also keep in mind that:
Blogs with images get 94% more views
The average word count of top-ranking content on Google is between 1,140 and 1,285 words
43% of readers skim, so break your content down into useful sections.
Don't be afraid to research, write notes, gather stats and go to town on the planning stage. Once that's complete, you can start to squeeze the most out of your hard work through content repurposing.
#2 Make The Most of Content Repurposing
It's a huge content marketing trend for 2019, but what does content repurposing mean? Well, imagine you've spent a couple of hours formulating a high-end blog post about crypto sentiment. This might be packed with useful information that can be transformed into a stat-based Tweet or an infographic from Facebook. A multi-channel approach will get more eyes on your brand. And you won't have to do all the same research twice. Essentially, let the blog you've written do the rest of the graft. It's simple!
Here are some great examples:
Barclays UK produced some informative, to-the-point web content about money scams. They then used an eye-catching image and slogan on Twitter linking back to the initial content.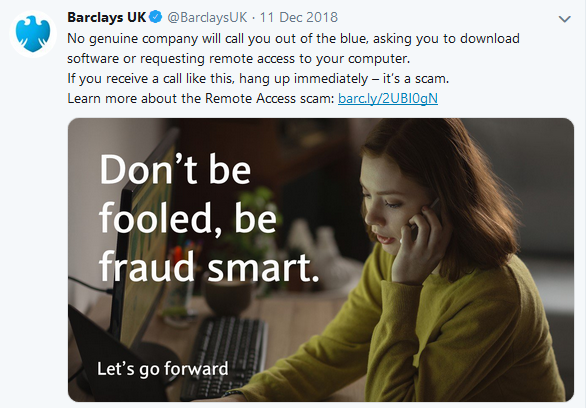 The same message was plugged on Facebook: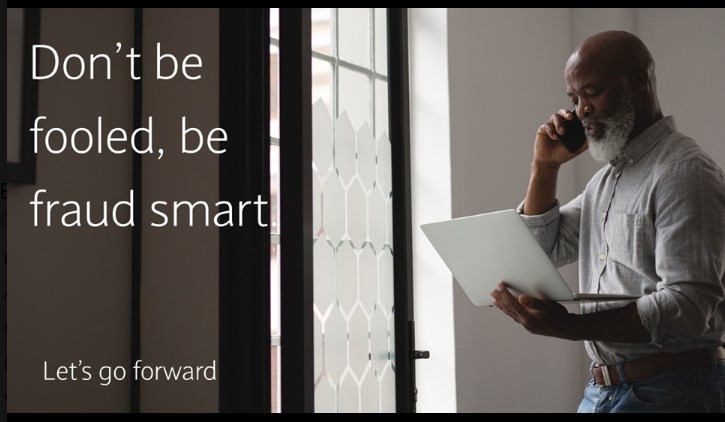 HSBC was also on the case, sharing key facts from their main HSBC business page on Facebook prompting readers to click through to the more extensive article.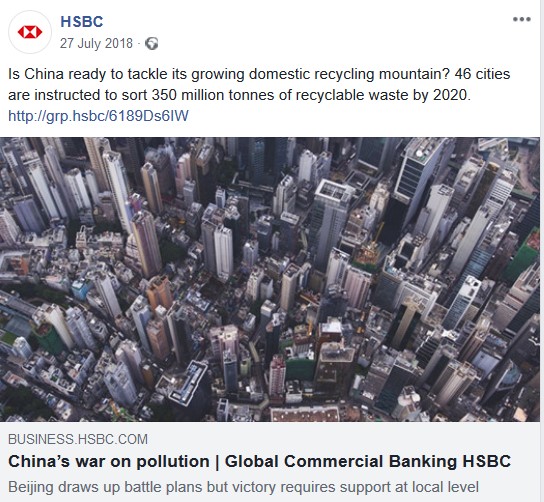 Takeaway: For content repurposing of this kind to be effective, you must either give a very specific call to action, such as 'click now' or 'learn more.' Asking questions also stimulates consumer minds and encourages them to seek more information.
#3 Don't be boring
The finance sector has long been considered highly corporate and dare I say it, boring to many! And indeed, rattling on for hours about hedge funds or the difference between the crypto and forex market may put people to sleep. So how can you be fun and engaging?
Produce snackable video content
Snackable content is the way forward this year with videos of ten seconds being a real hit. What can you do in 10 seconds? You may ask! Plenty! This is enough time to include one main marketing message and a call of action. You could even produce a snackable video series during the lead up to a product or service launch as this will help to generate a buzz.
You work in finance so what goes on behind the scenes? Going live with a company director or during a networking event is a great way to humanise your brand. To make this work, don't forget to promote your go live sessions giving a time, date and plenty of reminders so people can tune in at their leisure. You may also want to offer a reward or incentive to encourage viewers to join you online. This could be something like 'the first 100 followers of our go-live session get a free demo trial or the chance to win an iPad.
Business is not a one-way street. Consumers want to feel acknowledge and respected. So, instead of trying to shove sales messages down their necks, how about gathering feedback and increasing engagement through polls? Not only will the answers feed your marketing strategy but by actioning the responses it will show you care!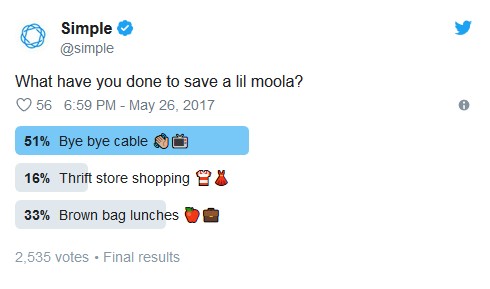 The above poll is light-hearted and casual in tone yet garnered over 2500 votes and gave insight into saving habits.
This poll is just as clever. It's actively asking for user input in a bid to update business practices. Respondents therefore feel useful when replying.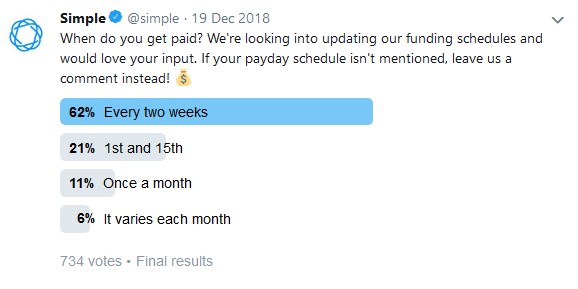 How much do people really know about your industry? Quizzes are a great way to boost interaction while informing people! Website FAQs and question and answer blog posts can then be formulated following such an insightful activity. You can also garner which areas of business you need to focus. Difficult concepts can be made clearer through explainer videos, long-form blogs, additional web pages and so on.
Want to improve your financial services content marketing? Contact me here.