Christmas is a marketers dream and with New Year also giving you the chance to play on post-binge diets, resolutions, gym membership, sales shopping and more – there's no excuse not to pull a few tricks out of your Christmas stocking. With this in mind, here are 3 winter marketing campaigns to jingle your bells.
1. Rock around the Christmas tree – and post the video
Before you enter a chocolate-induced coma or overdo it at the office Christmas party, let's quickly remind ourselves what seasonal campaigns are all about. Essentially, companies like to work their magic during the holidays as consumers are typically in the mood to buy – with retail sales set to top $1 trillion in 2017. It's the perfect opportunity to join in the festive spirit while promoting your products, services, special events or seasonal offerings, so how about making the most of video?
Video content is an excellent source of marketing with live streams being particularly popular throughout the past year. Therefore, why not pre-record a video to use as part of an integrated social media campaign? Or, live stream a particular event such as a Christmas jumper competition, a mince pie eating contest or a pin the red nose on the reindeer game?
For inspiration, check out A Content Marketing Christmas Carol produced by the guys at Uberflip. This video tells the story of Mr.Schmitty, a cynical marketer who wants to change his ways. He is taken on a trip through the past, present and future of marketing, finally learning the true meaning of it all. Not only is the clip wonderfully amusing, it's also great for brand awareness and gives us all a lesson in smart content marketing practices. Make one like this as a part of your winter marketing campaigns and your fans will certainly feel merry!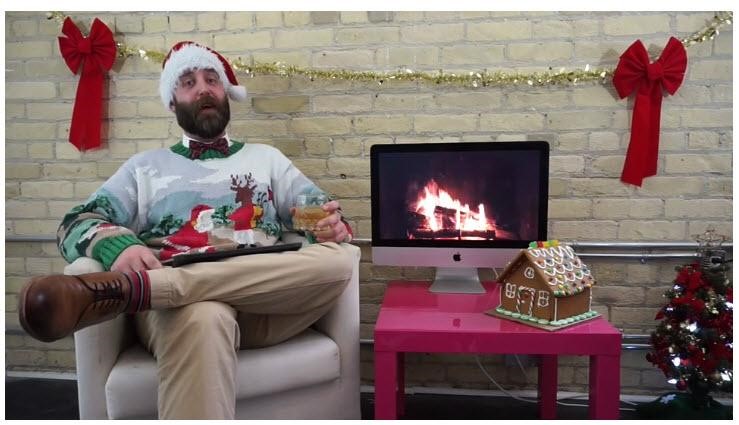 2. Give the horses a rest and make the most of Facebook carousel
During the festive season, you're sure to see plenty of content on Facebook. From cats dressed as Mrs Claus to Christmas dinner disasters, there's bound to be a significant amount of yuletide banter – but wouldn't it be nice to add some beautiful visuals to your winter marketing campaigns? With Facebook carousel, you can display up to ten images from different touch points on your site and link to them. The images will rotate horizontally giving your target audience a tempting overview of what you have to offer.
It's kind of like making one of those fancy window displays you see in shop windows during December – only digital. Essentially, you're tempting people to look through the glass and purchase a product. If you're selling shoes, it would be a good idea to showcase those that you think will be great for Christmas parties and New Year's Eve dos as this is likely to draw in an audience.
You could even take a leaf out of Serena & Lily's books by displaying matching items as this will encourage people to buy items that go together.
Of course, people will be looking to hit the sales come January, so add a promotion to your carousel and you'll be onto a winner. To monitor the progress of your campaign, don't forget to set your social media KPIs and make tweaks along the way if necessary.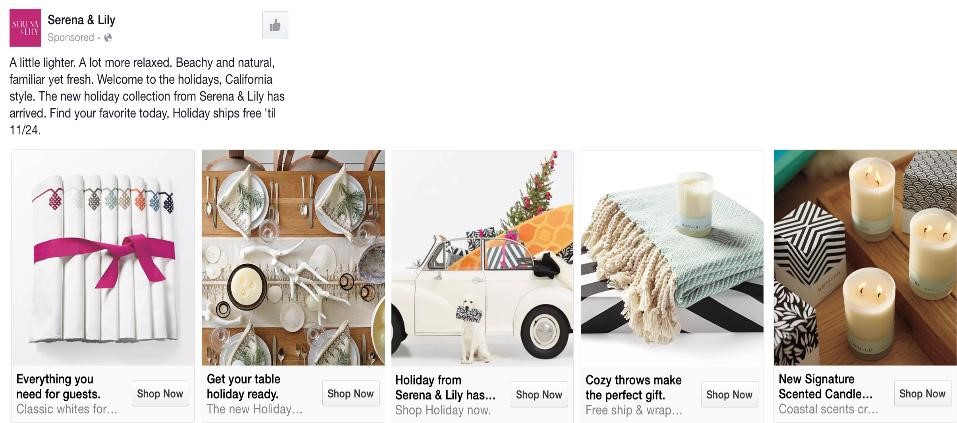 3. Share tips and ideas for Christmas and the New Year
The festive period is dominated by overly promotional content. "Buy Now" messages can be found across the web and while flash sales and pushy campaigns can work, how about taking a more 'useful' approach to generate organic traffic?
People love how-to and explainer blogs as well as buying guides, so wouldn't it be cool to base your marketing campaign around sharing tips and ideas?
Here are a few ideas to start you off:
How to Cook the Perfect Christmas Dinner
How to Make Brussels Taste Great
Top Five Ways to Make Your New Year's Eve Party the Best Yet
Fun Ways to Get Fit Following an Overindulgent Christmas
New Year's Resolutions That Are Easy to Keep
The guys at WeWork – a provider of co-working and office spaces around the world – pulled this off wonderfully with their #wwgiftguide campaign which started with an article entitled Holiday Gift Guide: Best Gifts with a Personal Touch. Over the course of two weeks, this was followed by a series of other articles with titles like Gifts with a Personal Touch, Gifts to get the Party Started, Gifts for the Family and Gifts for the Digital Nomad.
Each of the products featured in their articles was from a WeWork member company which helped to support its community of creators. To drum up social media attention, the hashtag #wwgiftguide was shared over multiple platforms encouraging people to share what they gifted over the holiday season.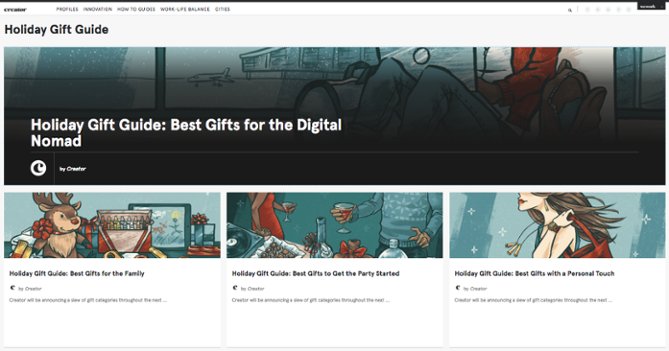 Christmas is a great time to promote your company – but so is New Year. And when the glitter settles and a sense of normality returns you can join in the January sales madness or the hype around Chinese New Year. The most important thing is to be ahead of the game, so if you need help with your winter marketing campaigns, contact me today.