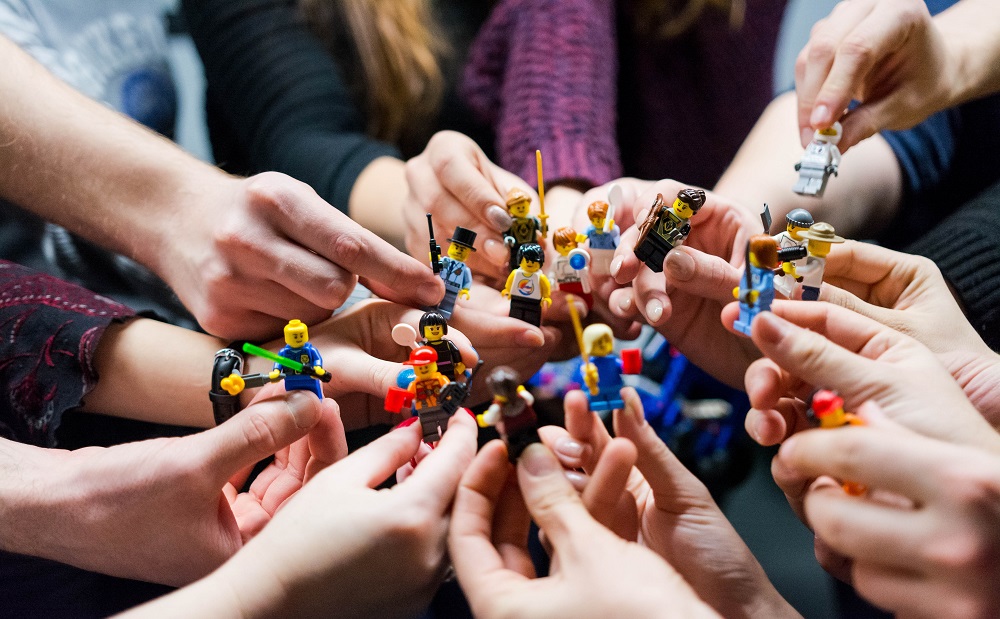 Did you know that employee advocacy programs can increase a brand's social engagement by 25% to 40% at minimum? Or that almost half of CMOs view employee advocacy as their best-performing social initiative? What staff members say online can have a huge impact on performance, with an ACI Worldwide study revealing 40% more leads from employee-shared content. Utilising the passions and social media platforms of your team can be impactful. But how can you make employee advocacy a success? Here's the marketer's guide to employee advocacy.
Employee Advocacy 2022 – Nailing the Basics
Employee Advocacy is not something you can force or write into contracts. You can't take over the personal social media accounts of employees or hold them hostage until they've posted something nice about your brand. Well you shouldn't anyway. Having worked in financial services marketing I know that some brands will try this. But it simply doesn't work like that. Instead, you need to think of clever ways for content to be shared and to have a strategy from the start.
Here are a few things to think about:
Company Culture. Are your staff happy? Is there a positive atmosphere and a respect for management? Do employees have incentives for giving their all to a position? If the answer is 'yes' to these questions, you'll have a much easier time rolling out an employee advocacy program. If the answer is no, there may be some fundamentals you need to fix in-house to ensure any shared content is genuine and not forced. A happier workforce is a more productive one.
Trust. When it comes to employee advocacy, you must trust your team to use their private social accounts during the working day. This should be for business only but understand that looking at viral videos, news, trends and memes will help your team to be in touch with what your audience are talking about.
Incentives. Employees own their social platforms and don't have to post anything they don't want to. It's therefore wise to offer some sort of incentive. This could be anything from coffee vouchers to end-of-month bonuses for employee advocacy-related ROI.
Understand Boundaries. While some employees will want to be featured in posts, others might have a no photo policy – and this should be respected. Ask, don't tell and see who is interested in being a part of company social media initiatives.
Training. Your team might not be overly sure about what employee advocacy is or how they can improve business performance through their own channels. So, basic training might be good. Be sure to also provide information on social media usage for business. Some people may be completely unfamiliar with simple practices like tagging and hashtags.
Whatever you do, don't launch an employee advocacy program without a clear set of social media guidelines. These should be clear, non-ambiguous and accessible to all staff members. Take a look at this example from Starbucks which includes very clear and concise 'do this' and 'don't do this' rules. This document is transparent and easy to find online, showing that Starbucks has nothing to hide when it comes to their social media guidelines for partners. Note how Starbucks also calls employees 'partners' in a bid to make them part of the company's success. The brand notes, "We're called partners because this isn't just a job, it's our passion."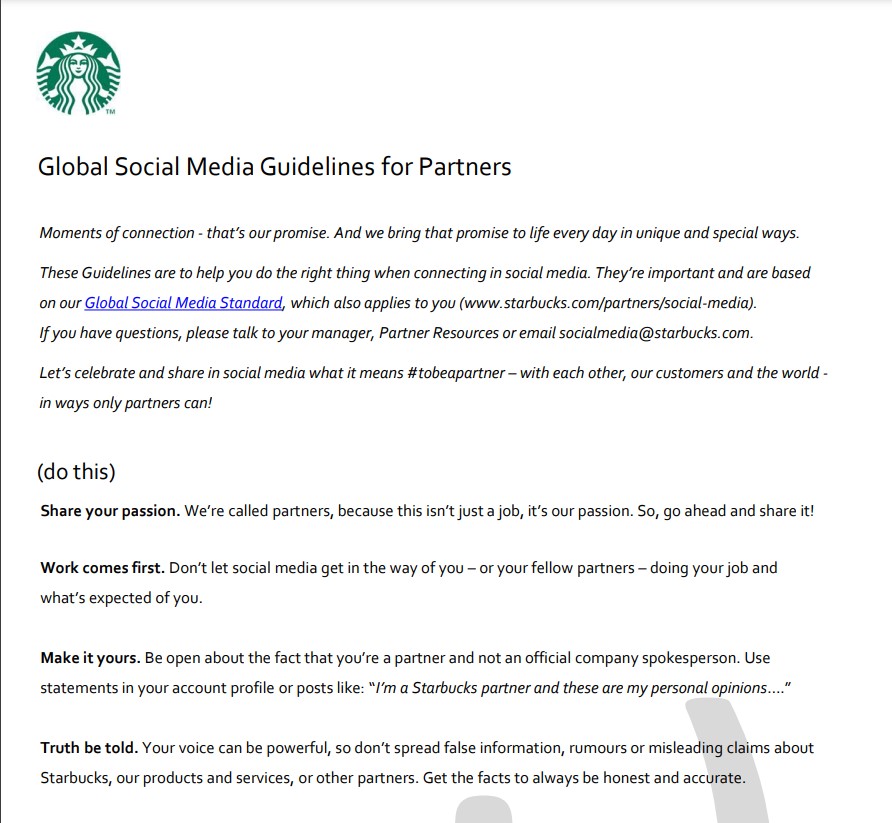 Monitoring Metrics. Employee advocacy is no different from other forms of marketing in the sense that you need to track metrics such as top contributors, organic reach, engagement and traffic regularly to see how your strategy is working and which content performs the best. From there, you can ask employees to promote the posts or content types which gain the most traction.
The Brands Getting Employee Advocacy Right – And What You Can Learn
Brands are getting stuck into employee advocacy left, right and centre. And it's perhaps not surprising considering how successful this strategy is at building trust. A Nielsen Global Online Customer Survey recently revealed that 90% of customers are more likely to trust a product or service recommendation from someone they know. So why wouldn't companies want to tap into the friends, relatives and followers of their team members? But who is doing it right?
#1 Starbucks
Let's stick with Starbucks for a second. The coffee giant has gone out of its way to create employee social media pages, allowing 'partners' to take part in discussion and share posts. The Starbuck Partners' Facebook page has almost 380,000 followers, and they've an impressive 139,000 followers on Instagram. We particularly love the storytelling element to the social activity as this introduces team members and puts a face to the otherwise corporate Starbucks brand. A post that recently caught our eye was that of Starbucks employee Imani B who took the time to explain her love for metal art. Posts like this help to boost brand awareness in a way that's not annoying or overly promotional.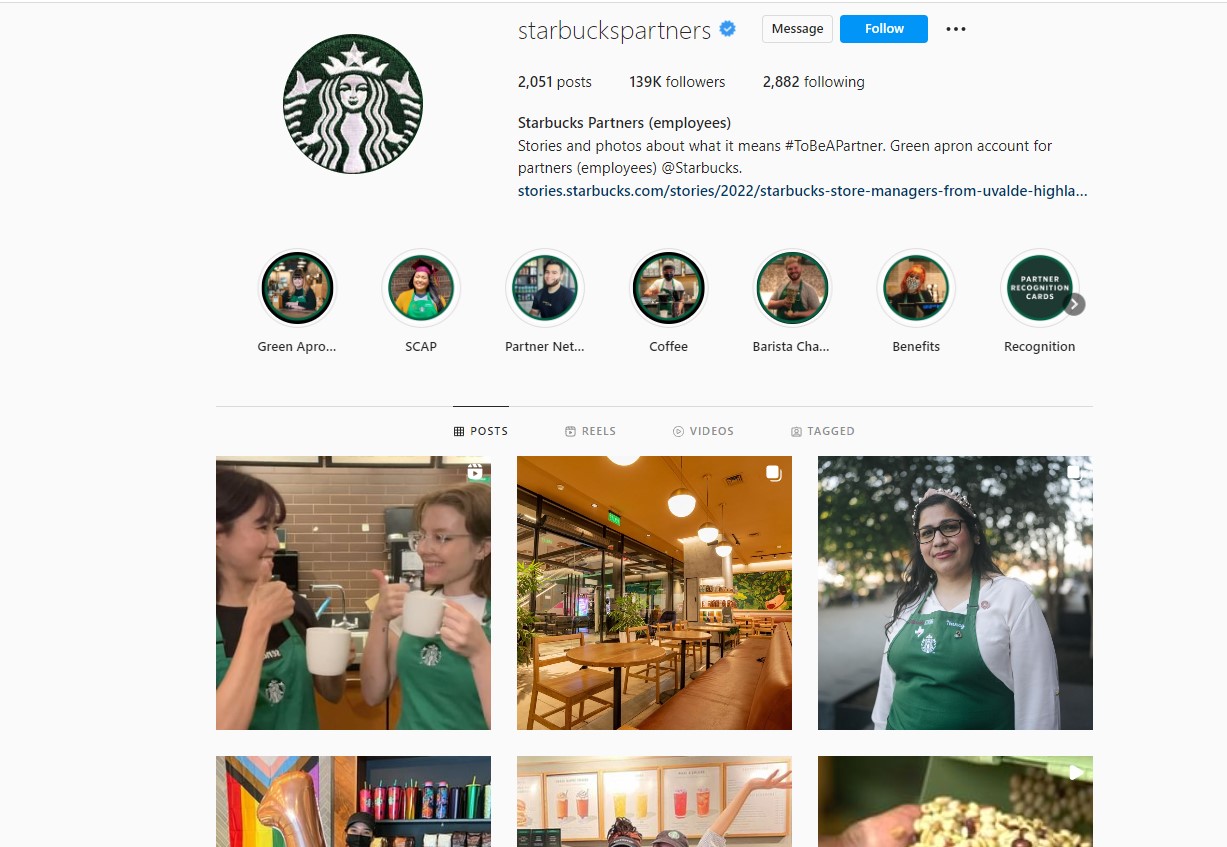 Through their Partner pages, Starbucks also manages to create a sense of team unity, support, compassion and a shared drive. This is clever marketing. Wouldn't you prefer to buy from a company that cares about the wellbeing of its workers than one who doesn't? By asking partners to tag team members that were part of their journey is a great way to boost awareness and increase engagement.
#2 Dunkin'
Did you know that some of the best influencers already work for you? It's just a case of tapping into this potential, something Dunkin' – America's popular coffee, espresso and donut brand – has nailed recently.
For example, Dunkin' employee, Ashley Darden, recently posted a video of her enthusiastically demonstrating how to make her most-loved drink. But this wasn't Darden chilling in her spare time. It was her giving a glimpse into her day job as a Dunkin' employee. Listed as a 'crew ambassador', Darden regularly posts behind-the-scenes videos of her work at Dunkin' on her own social channels – not as an official company spokesperson, but as an employee sharing what it's like to work for the company. Considering she has 61.2K followers on TikTok alone, this is great brand awareness for the Dunkin' brand.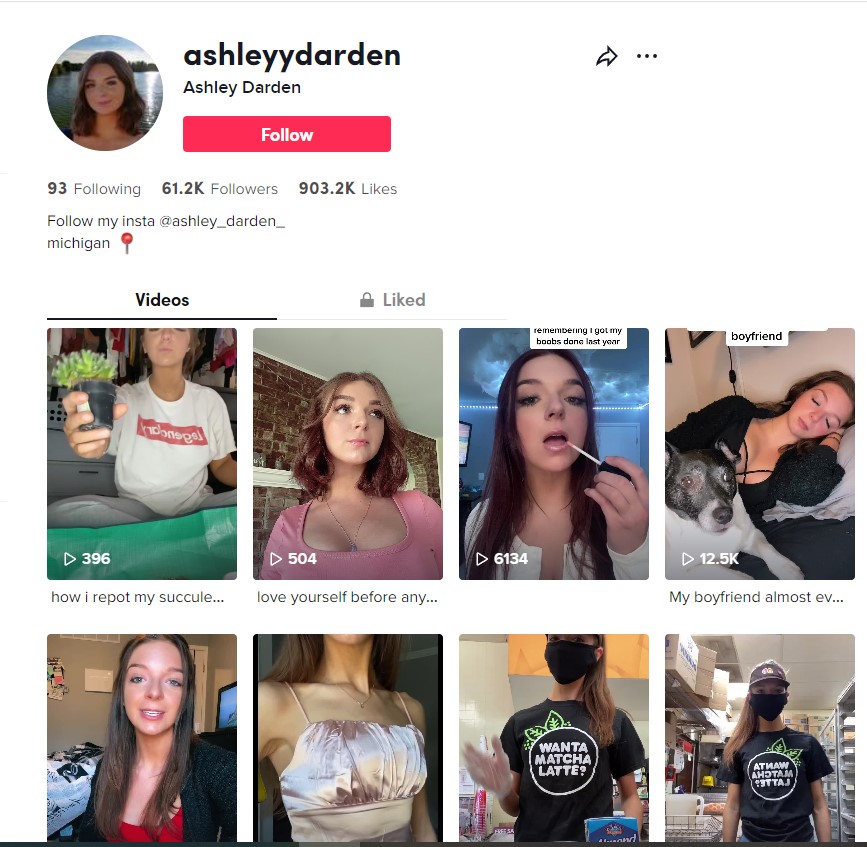 Top Tip: Make sure employee advocacy videos represent the brand in question clearly but that they're not overly staged. Videos should also match the tone of the platform being used. Check out this short video clip for Dunkin' which is set to music and bang on trend for TikTok.
Successful employee advocacy program contributors also tend to be given specific names such as 'Partner' or 'Crew Ambassador' to add a sense of importance and inclusion. So this might be something you want to think about. Everyone specifically involved with any kind of employee advocacy can then be given your brand guidelines for this marketing scheme.
#3 GameStop
Remember we talked about incentives for employee advocacy? Well let's look at an example of this in action. American video game retailer, GameStop, encouraged employees to submit their own TikTok dance videos in exchange for extra hours off during the Black Friday shopping weekend. A prompt for GameStop stores read, "Be creative, rope in your team, and have fun with it! Don't worry, you can't look as bad as the event team does." The best #redwinechallenge videos (dance videos set to UB40's Red Red Wine) were in with the chance of winning an Echo 9, Echo Auto, $100 Visa gift card, and '10 additional labour hours' to use during Black Friday week. Check out one of the entries here.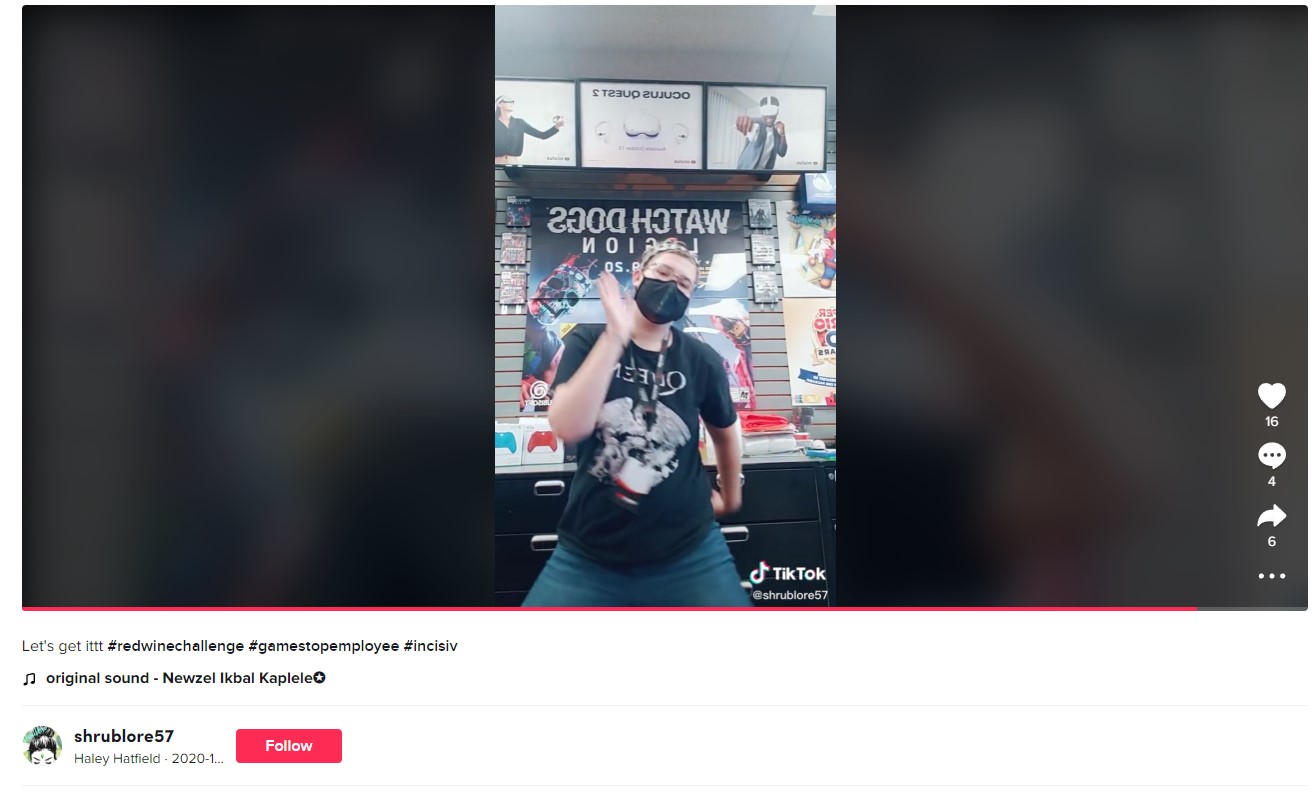 Top Tip: If your business has multiple stores or franchises, it's well-worth adding a touch of competition into your employee advocacy program to see which branch performs the best. This gives those involved an even bigger incentive to be active online.
#4 Sephora
Launched in 2019, #SephoraSquad is an ensemble of inspiring artists, storytellers and beauty enthusiasts with a diverse range of interests, points of view and followers. Many Squad members are already employed by Sephora and those who are selected enter a year-long, paid partnership with the beauty brand. This is a very clever form of employee advocacy as Sephora draws on the knowledge and talents of skilled influencers to promote their brand. Every year, there's an intense #SephoraSquad application process which boosts brand excitement and engagement. The chosen ones can then get creative on their own platforms using the specific #SephoraSquad hashtag. Follower numbers can vary, but with famous drag artist Rochelle Mon Cheri having over 54.6 fans on Instagram, the outreach of this strategy is huge.

Top Tip: Working with influencers is one thing, but hiring your own squad to rave about your brand is next level cool. Having a catchy and easy-to-search hashtag will also boost engagement. Think about starting with team members that have shown passion and enthusiasm for your brand and branch out from there.
There are other ways to create this sense of unity. If you're carrying out some kind of corporate responsibility activity, for instance, you could create a unique #hashtag for the project that includes phrases such as 'company name + team/crew'. You could also show that you're operating from the inside out effectively by using words such as 'insiders', which is something Electronic Arts did to unite employees and spur friendly competition.
Employee Advocacy Made Easy
Employee advocacy doesn't have to be hard. Here are some quick-fire tips to make it a hassle-free process:
Before you start any kind of employee advocacy programme, do these two things. Check your brand's glass door reviews and run a pulse survey. If you're scoring low on either as a great place to work then fix yourself from the inside out! Check out my article at Agorapulse on how to create a positive feedback culture.
Provide your people with a selection of content you want them to share, whether that's industry news, job postings, videos, photos or UGC.
Ask your team which channels they want to be active on. Younger teams often don't have Facebook accounts and would prefer a Tiktok campaign.
Ditch the professional studio, airbrushing and photoshop. Employee advocacy is all about being real. If you make a mistake or something doesn't look perfect, you will probably be seen as more relatable.
Be sure to get photo release forms signed if you're running a group photoshoot. These give permission for you to use each person in the photo and avoid the need to delete the whole thing if they later leave the company.
Have fun! Employee advocacy is all about happy employees taking part in showcasing the company culture so don't lose sight of that part.
Employee advocacy is not just for your bosses! Employee advocacy should be inclusive for everyone from the shop floor through to senior management.
Get in contact to discuss how I, and the Contentworks Agency team can get your content and social media strategy aligned with your employee advocacy goals.