Summer is here with June being one of my favourite times of year. Why? Because it's nearly my Birthday (hint) and also it's Pride Month. And while the diversity, strength and equality of the LGBT community should be celebrated daily, it's a good opportunity to acknowledge inclusivity and acceptance. It's great to see so many brands embracing Pride marketing campaigns. Here's what I'm loving so far!
#1 IKEA's Rainbow Bag
IKEA never fails to surprise with their innovative marketing efforts. First, we had the DIY chocolate bunnies at Easter which poked fun at IKEA's reputation for selling flatpack furniture. And now we have a rainbow edition of their reusable blue bag. Sales of this colourful must-have will go towards contributing to and supporting Pride events and initiatives across the globe. Go IKEA! She says as she quickly makes another IKEA shopping list!
IKEA stores across the UK are also flying the rainbow flag to show support for their LGBT workforce.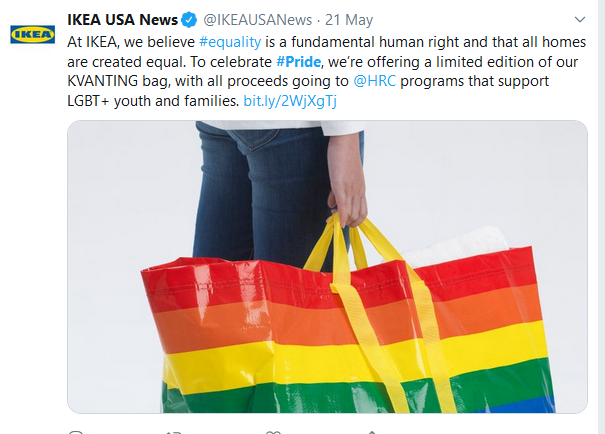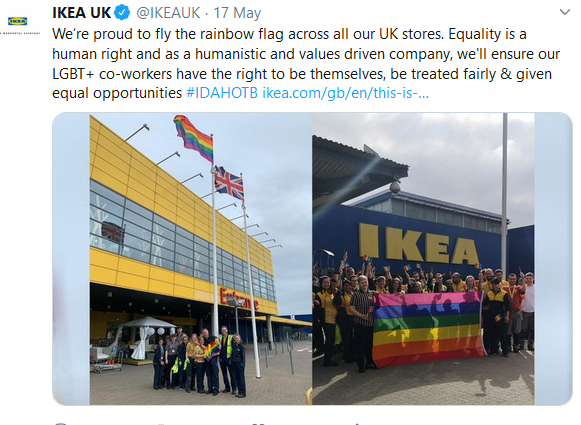 Marketing takeaway 1: Use branded and trending hashtags appropriately to promote your brand. Never jump on a hashtag that's irrelevant or if you have nothing to offer as this may cause a backlash and damage your brand's reputation.
Marketing takeaway 2: Be sure to promote your marketing initiatives across multiple channels. Above is a good example of similar messages being displayed across two branded Twitter accounts.
#2 #AbsolutPride
Absolut Vodka has been supporting the LGBT community since 1981 even before becoming an internationally renowned brand. From rainbow spirit bottles to LGBT ads, Absolut has played a significant role in the push for equality and acceptance. The brand is already highly active on social media encouraging followers to tweet #AbsolutPride every day to spread the love. And of course a drink that can be enjoyed at parties will certainly be enjoyed at Pride in all it's rainbow glory. Absolutly (see what I did there) digging the 70s hippy vibe of this ad. Park up the VW, pass me a flower necklace and let's go celebrate!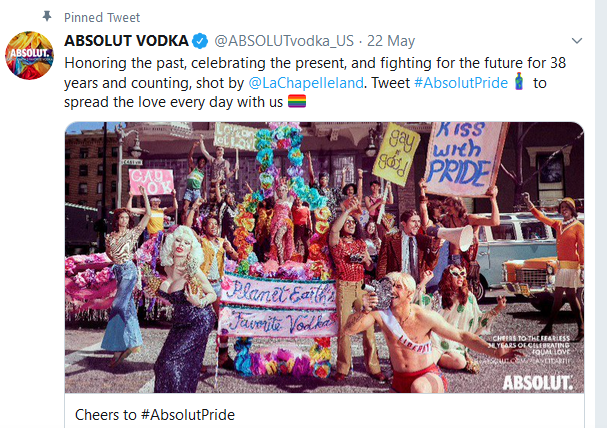 Marketing takeaway 1: Give plenty of thought to your campaign hashtags. #AbsolutPride is really strong as it's branded and includes a trending keyword. They can also have fun with it: "Cheers to #AbsolutPride" being a great example.
Marketing takeaway 2: Promote your USPs. What makes your brand relevant to a specific cause or will help boost your authority around a specific topic? In this case, Absolut Vodka showcases how they've celebrated LGBT love for 38-years!
#3 Calvin Klein's Pride Capsule Collection
Calvin Klein is another brand that's been supporting Pride for years. They've recently launched a new Pride clothing range including swimwear and jockstraps. But noticeably they've also taken their campaign to a new level of 'brilliant' by putting transgender and non-binary model and actress Indya Moore as the face of their Pride efforts. Moore is also part of the latest #MyCalvins campaign which promotes freedom of expression for a wide range of gender and sexual identities.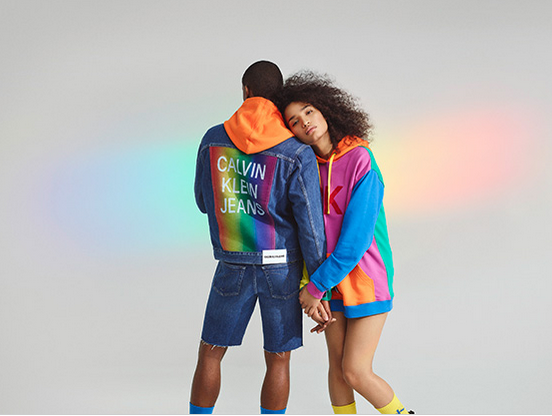 Marketing takeaway 1: Influencer marketing is growing in popularity. But if you head down that path, make sure you work with people who are the perfect fit for your brand, keeping in mind any specific behaviours and ethics.
#4 Pride Apple Watch Faces
From the rainbow Apple logo that's long been associated with Pride to various Apple merchandise including t-shirts, Apple backs the LGBT world. This year they've pulled out all the stops with brand new Pride Apple Watch faces which feature rainbow stripes that move around the watch face when your lift your wrist up and down. For the first time ever, there are now two analogue rainbow faces too – one square and one round and these sit neatly next to last year's digital collection. You can also add 'complications' over the top to personalise your Apple Watch even further (far right example below.) I'm torn between my desire not to own any Apple products and my increasing desire to get one of these babies!


#5 Boohoo's Love Without Limits Pride Collection
Boohoo recently announced their latest Love Without Limits Pride collection which has been designed to 'empower, support and celebrate' the LGBT community. It's their third Pride collection to date and includes trend-led designs that appeal to a wide range of tastes. Slogan prints play a huge part in the messaging this year with tie dye and block colours also complementing the rainbow theme. There's also loads of festival items up for grabs ideal for Pride parades.

Boohoo's website showcases what's on offer with clear imagery often showcasing matching outfits for men and women.
The campaign also infiltrates social media where video content is used to push the #Pride collection – a great idea considering how popular video is as a marketing tool. And I'm all about the rainbow emojis this month too.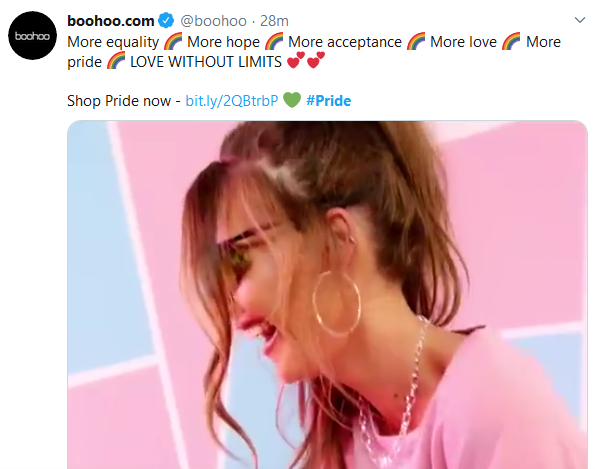 Top marketing takeaway: Be clear with your messaging. Boohoo's Twitter post leaves nothing to the imagination. And with a clear call to action and a relevant link, consumers know exactly what to do and where to go if they want to 'Shop Pride.'
Brands often tell me they don't feel "Pride" sits within their corporate values. So let's dust off the rainbow glitter for a moment. We are just talking about equality and acceptance. Isn't that something we should all embrace? Pride is set to be a fun-filled month. I'll be attending the Nicosia Pride festival in Cyprus on 1st June and I wish you lots of fun wherever you're celebrating! Seen a cool Pride Marketing campaign? Tag me and share the rainbow.
[wpsr_socialbts type="32px" services="facebook,twitter,googleplus,linkedin,stumbleupon,email,rss"]