There are over 3 billion active social media users across the globe! That's equivalent to over 8333 football stadiums filled to capacity and way more people than you could ever squeeze into your average high storeshop (obviously). The point is; social media marketing has huge potential. Gargantuan potential, in fact – but it must be done correctly and that means consistent branding!
While there's probably a load of annoying office jargon you take with a pinch of salt such as 'touch base' or 'think outside the box,' the term 'consistent branding' should not be ignored! It's highly important if you want to succeed in an increasingly competitive digital world – but don't just take our word for it.
Here are some useful stats:
Consistent brand presentation across all platforms increases revenue by up to 23%
Brands that are consistently presented are 3 to4 times more likely to experience brand visibility
65% of consumers make a purchase after watching a branded social video
And, with 91% of retail brands using 2 or more social accounts, consistency is essential. Not sure where to start? Here are some useful tips – you can thanks us later (hint, we like cake).
Outline Your Brand's Style and Tone of Voice
Are you straight-laced corporate or down-with-the-kids? Whatever you decide, it's important to outline your brand's style and tone of voice so you know what approach to take on social media channels. The strategy adopted by trendy, rebellious and often controversial fashion brand Missguided,for instance, is likely to be extremely different from the more ironed-suit,straight tie finance brand.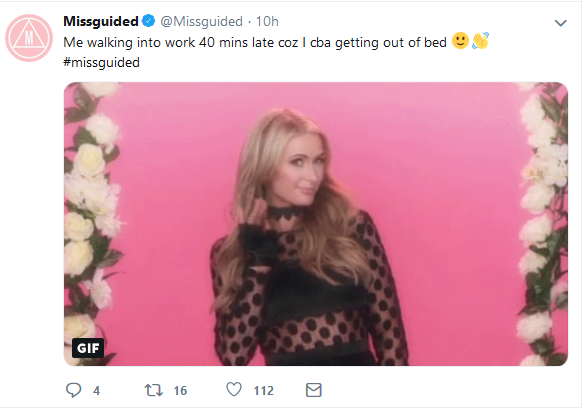 While coming up with a tone of voice might sound incredibly basic, there's lots to think about, including: 
The goals and visions of your company and how these should be communicated
Your target audience and what language will keep them entertained and occupied
To use slang words and colloquialisms – or not!Again, consistency is necessary to avoid chopping and changing between styles.
The use of emojis and whether or not they should form part of your social strategy.
Branded hashtags and project specific hashtags to promote campaigns.
Airbnb's Head of Content Strategy Marissa Phillips hit the nail on the head when she said: "Our voice is the extension of our brand and personality within the product and it's the foundation of everything we write.It informs the decisions we make every day, from our overall approach down to every word we use. We debated countless words that could describe our voice,asking ourselves whether they sounded like us and whether they could be applied to every situation we write for, whether it's a moment of excitement or frustration. In the end, we decided our voice is straightforward, inclusive,thoughtful, and spirited.
Takeaway 1: Create a storyboard. This is a technique used by videographers to develop a character in a story or script but it's also a great way to get everyone thinking about the brand in question and what it stands for. Step away from the hustle and bustle of everyday life and think about if you're conveying the right messages in the right way.
Set Social Media Guidelines
Whether you're a finance company that needs to be careful about social media compliance or an edgy, fun fashion brand – specific content creation guidelines are needed.
Here are some things to consider:
This all depends on your target audience. If you're a science research company talking about dichlorodiphenyltrichloroethane, you may need to use virtually all the letters in the alphabet. But, if you're selling shoes and want to build a mass following, it's probably best to keep things simple.
Don't worry, we're not going to get too technical – but you must decide how you'll refer to your company on social media. Use 'We' when speaking in the first person tense and 'Brand Name' when speaking in the third person tense. The choice is yours; however, the first person approach is a great way to create a more personable tone that's easy to connect with.
On a similar note, when talking about your audience, you can use second person 'You' or third person 'Suppliers,' 'Clients,' 'Customers' and such like.
There's nothing wrong with having a bit of fun on social media. In fact, joking around and having a laugh with your followers can increase engagement – but only if it's right for your brand. If you go from posting trading charts and graphs to sharing a SpongeBob SquarePants meme, your audience is likely to be a little confused and rightly so.
Here are a few examples of humour done well:
Airbnb's politeness faux pas post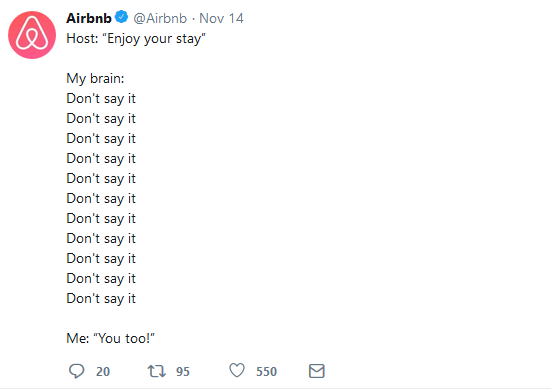 This is certainly in-keeping with the 'spirited' tone of voice adopted by social media masters Airbnb. The repetition and length of post also makes it eye-catching which is always a winner.
A Netfix pop at IHOP's name change

When IHOB changed its name to IHOP, Netflix has something to say about it. The online streaming company has a reputation for not only promoting their services but responding to world/social events and therefore this is bang on trend.
Jargons and puns can be niche and exclusive. Every industry has them but if you're trying to attract a wider following and take a more inclusive approach, it might be wise tailoring your content to the masses,rather than only a specific group of people.
Takeaway: Brainstorm, create and work from a tone of voice document as this will help everyone creating content – including agencies like us – to follow your guidelines appropriately. 
Make Sure You Know How To Respond To Bad PR
Bad PR can be hard to avoid particularly in this technology-led world where consumers are more eagle-eyed and vocal than everbefore. A simple grammatical error can lead to a backlash –particularly if you're in the educational sector – which is exactly what happened to the US Department of Education when they posted the following tweet.

Unfortunately, they misspelled DuBois as DeBois sending Twitter into overdrive – but that wasn't all. While they issued an apology,there was a spelling error in that too, which certainly didn't help the matter.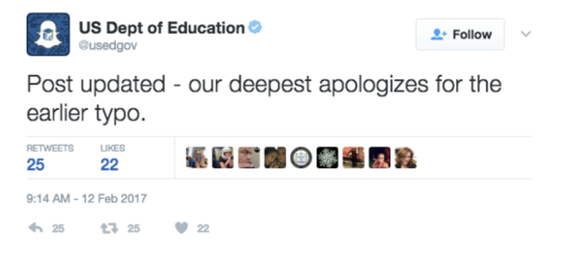 Tips for dealing with a social backlash:
Issue a statement if necessary. Keep it classy, respectful, on brand and make sure it's not full of grammatical mistakes as that's no good for the credibility of your company.
Reply to individual comments if possible, explaining how you'll improve going forward.
Ensure everyone active on business social accounts understands your tone of voice.
Have a compliance procedure in place if work in the finance sector to be sure you're saying all the right things at the righttime.
Avoid deleting negative comments as this can make things worse.
Continue your social campaign in the hope positive content will overshadow mistakes.
Be consistent with your responses in such a situation. If you're usually highly active on all social accounts, don't suddenly just shut down and go quiet.
Maintaining a consistent brand voice can be surprisingly challenging – particularly when adopting a much-needed multi-channel approach.Speak to my Contentworks crew today about your 2019 strategy and take your brand to new heights.