Social media has revolutionized the way we interact, conduct business and keep up to speed with the world around us. If you're a marketer or small business, you've no doubt uncovered the power of social media to win over new business and build trust and influence with a wider market.
Social proof is an essential part of building a successful online reputation. It lets you leverage consumer behaviour so that you can develop a more authentic brand. As the recent US elections clearly demonstrated, the world is craving authenticity. This is true of both politics and business (and everything in between).
Social proof isn't just unique to social media. As a psychological concept, it tells us we are naturally included to follow the pack because we want to conform. After all, conformity usually means acceptance. In other words, the more other people are doing something, the better or more worthwhile we believe it to be. That's the essential foundation of the social proof concept.
Social Media: The New Art of Persuasion for Business and Marketers and five ways you can apply the concept of social proof to Facebook, Twitter, Instagram or any other social media channel.
Share customer feedback

One of the best ways to earn positive reinforcement and establish an authentic brand is to include customer reviews, testimonials and feedback on your social media channels. This gives visitors an instant view of what other people think about your business. Obviously, you want to be an awesome company so that people leave you great reviews.
Depending on the nature of your business, you may also want to incorporate customer feedback into your posts. If you offer a tutoring service, be sure to tout one of your students when they get an A+ on an exam that you helped them prepare for. This is business, so don't be shy to honk your own horn!
Share your business metrics
How many customers have you successfully served? How well does your blog or website rank? Have you achieved a significant social media milestone? Be sure to share all these numbers with your followers. It'll help you build legitimacy for your brand and give potential customers the assurance they need to trust you with their business.
One idea you might want to consider is launching customer satisfaction surveys and sharing favourable results on your social media channels.
Build a network of influencers
Social proofing your online presence doesn't have to be an uphill battle. Seek out trusted brands or figures in your industry and establish a real relationship with them like my Twitter friend Ed Leake 🙂 . It doesn't even have to be monetary. Consider swapping your mailing list or touting their service on your social media profile. Whatever you do, attract the best and brightest from the industry to your brand.
Twitter conducted a recent survey that showed 40% of the network's users made a purchase because an influencer, such as a celebrity or blogger, tweeted about it. Influencers can have tremendous reach if they are well known and align with your brand's image.
Get verified
Social proofing is all about establishing trust for both existing and potential customers. Therefore, you should aim to pass all the requirements to unlock verification badges. This may not seem important, but seeing a check mark or "verified" symbol next your name has a powerful psychological impact on your end market. Verification typically requires incorporating some basic information about you or your company, such as a verified phone number, email address, website, biography and photograph. Remember, you're a business, so these things should never be hidden from view.
Social media channels usually have similar verification schemes and are well worth the effort.
Customer service is king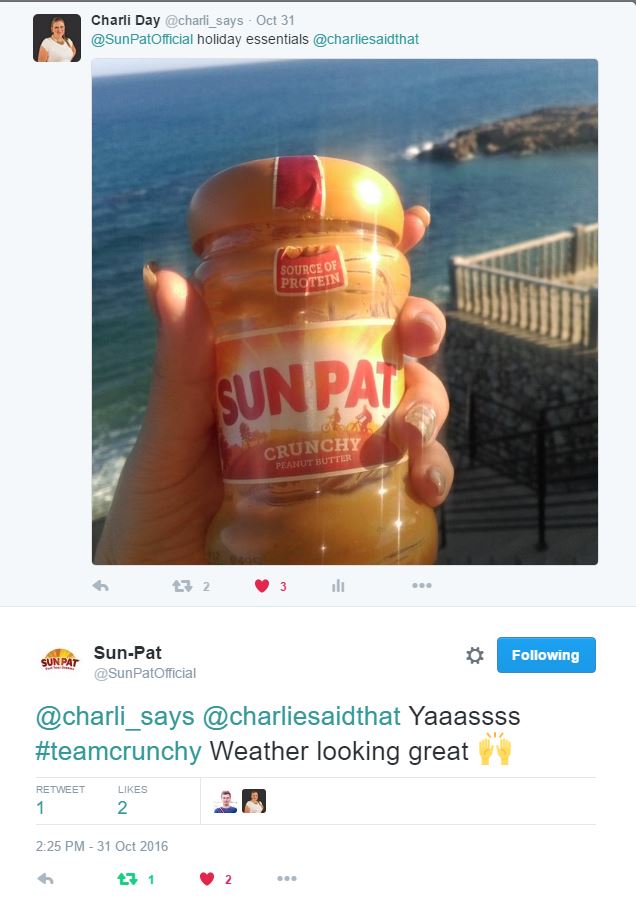 Ultimately, badges or reviews won't get you anywhere if your customer service skills are lacking.
If you want to truly succeed at social proofing your business, you must strive to always go above and beyond when it comes to customer service.
This means responding to user questions, handling business inquiries and following up with clients if there are ever any issues.
In other words, you want to be highly responsive and proactive. Depending on the nature of your business, you also may want to personalize the experience by bringing your customer support staff to the forefront and market them like you would any other service.
You should also learn to have fun with clients like Sun Pat did with me on Twitter!
A solid customer service track record should be highlighted on your Facebook and Twitter accounts. If you've done a good job making customers happy, share it!!
Putting It All Together
Social proofing is an age-old concept that has taken on a whole new meaning in the world of social media. Companies that are responsive, trustworthy and produce engaging content will be the winners in the long run. These five steps should help you achieve just that.
What do you think about Social Media: The New Art of Persuasion for Business and Marketers? Tweet me @Charli_Says and let me know.
Source;
Adapted from: Sara Quinn (November 15, 2016). "5 Ways to Persuade Via Social Media." Social Media Examiner.