If you think expo season is all about drinking iced coffee drinks, pocketing numerous free pens and sampling sweet treats, you'd be completely right. But you should also do some work too. A lot of work, in fact, if you want to bring home the bacon. Having shelled out on tickets, entry, travel and a host of marketing materials, here's how to maximise your expo marketing.
#1 Be active on social media
This is 2019. There are over 2.7 billion social media users across the globe, so it makes perfect sense to be active across multiple networking channel from Twitter and Facebook to Instagram and LinkedIn. But don't leave everything to the last minute. Social media can be used before, during and after an expo event to increase engagement and encourage brand awareness.
Before the event
Share essential expo information such as dates and times using location/event hashtags where appropriate. Give a rundown of what attendees can expect. Encourage people to visit your booth or meet with you in advance! Explain why you're going to be there and how your products/services rule. Essentially, it's important to create an expo buzz that no-one will want to miss. And differentiate. Why should attendees meet with you over the thousands of others there?
During the event
Get eyes on your brand by 'going live.' Share updates throughout the day including team snaps as this will help to humanise your brand. You can also reach out to people at the expo by offering incentives and offers. Perhaps a free product trial to the first 50 people who sign up to your mailing list. Those monitoring social accounts should also be aware of any potential posts that are worth sharing, re-tweeting or engaging with for maximum outreach. Be sure you know the official expo hashtag and use it. Monitor it throughout the event so you can respond and be a helpful and engaged community member. Heard a great stat or thought from a speaker? Tweet it and tag them.
Photo below as media sponsors at Nakamoto's Den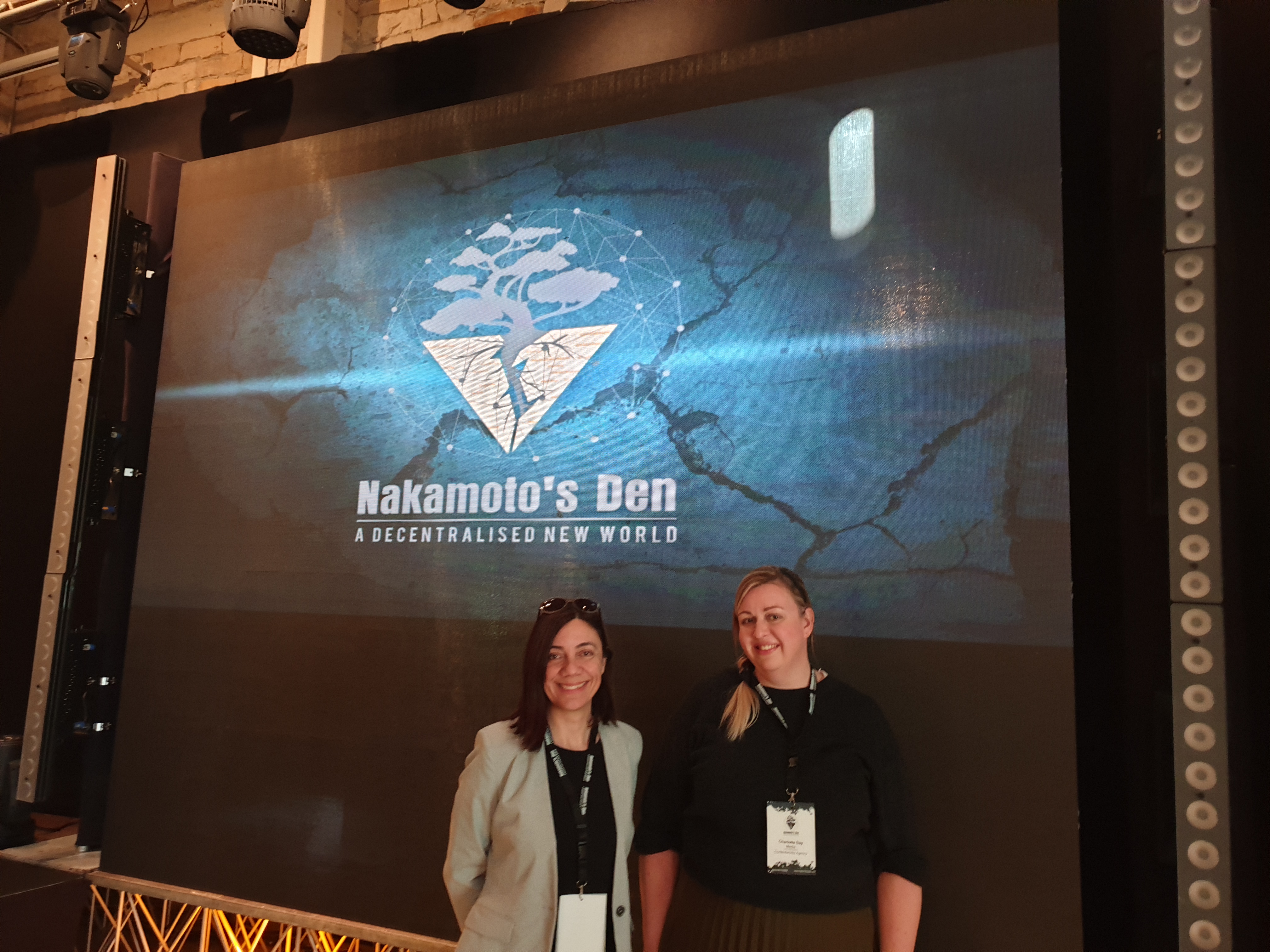 #FIGIWaterGirl Case Study – How It Pays to Be On-The-Ball
Let's take a closer look at the viral #FIGIWaterGirl incident that happened at this year's Golden Globes and how important it is to have a digital focus during big social occasions.
When the company's water girl managed to photobomb a host of celebrities, her actions quickly got picked up on social media. FIGI Water themselves then joined in the fun acknowledging the viral moment and referencing the circulating memes. Their participation helped to propel the engagement with the event reaching a total of 160 million people and generating an impression value of over $5.5 million for FIGI Water.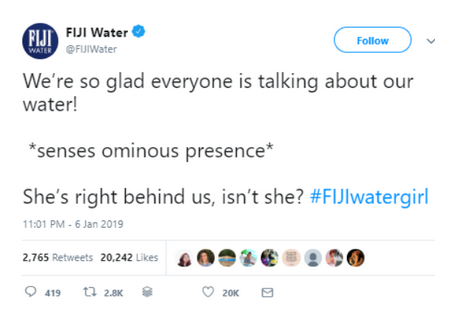 Key takeaway: Keep an eye on social channels during the expo and join in any relevant conversations. You just never know which topics will take off!
After the event
Keep up the expo momentum by sharing highlights from the event. FIGI Water did this extremely well by creating and circulating their own humorous memes using the trending #FIGIWaterGirl hashtag.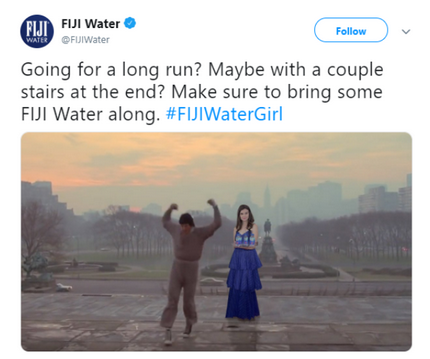 If you hosted any competitions, this would also be a good time to name and tag the winners. Those winners will then usually share the fact they've won with their followers helping to get more eyeballs on your brand. It's also a good idea to direct people to a longer-form expo blog on your site, perhaps with more imagery from the big occasion. Did you particularly love any speaker spots? What did you learn? Share your insights with others to demonstrate that you are committed to your sector.
#2 Bring your offline marketing materials to life
Offline marketing is important at an expo, so don't forget to print off eye-catching business cards, leaflets, brochures and such like with all the relevant information. That said; we're not in the 90s. Printed materials can be given a digital edge through apps such as HP Reveal. This connects offline marketing to online channels with an augmented reality experience that directs customers to points of sale, landing pages, social engagement channels and more.
So, you can point your phone at a page of the brochure and a video will appear giving consumers more detailed information. This isn't old-fashioned conference stuff. This is digitally enhanced awesomeness which you should incorporate into your expo content marketing strategy.
Also consider giving your printed materials a twist that makes them more saveable. Check out these business cards that are also fun, meaningful or useful.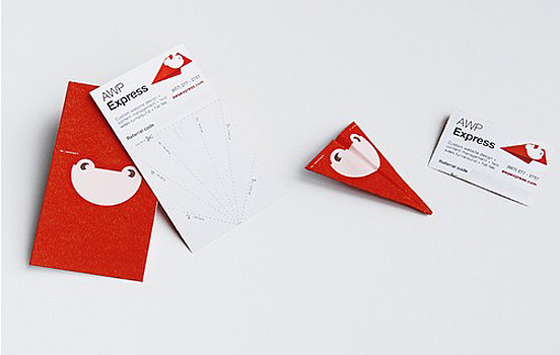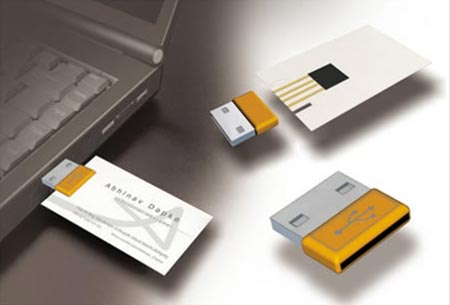 #3 Make the most of apps to help you capture leads
The whole point of you being at the expo is to make contacts, spread the word about your business and capture leads, right? Walking away with 0 connections is not ideal, so how can you remember and record those all-important details of potential consumers?
Well, many expos provide official scanners allowing you to scan badges and business cards, but these can be expensive. The good news there's also a wide range of apps that you can try at your next trade show! These include:
iCapture
This app is highly useful as it organises information from business cards and so on into an easily accessible spreadsheet. Data can also be synced with your CRM or marketing automation software.
CDS XPress Connect
This allows you to scan the barcode or QR code on an attendee's badge with your phone camera. Once the data has been collected you can then add notes, answer questions, arrange follow-up meetings and so on.
You can also create a simple landing page, have your team use tablets to capture details that way. Remember, you will be busy and there's no time for long forms or complicated signup processes.
#4 Set up a wireless charging station at your booth
What can't people seemingly live without these days? Their phones and laptops. And every single expo I attend sees my battery running low by mid afternoon. So, if you want to be useful and keep people at your booth longer in order to enjoy more detailed chats or allow them to check out your displays, offer a wireless charging station. While they're waiting for their device to power up you could also take them on an augmented reality journey, provide a product or system demonstration or give a talk. The choice is yours.
Businesses can spend a small fortune attending events yet fail to maximise their efforts. So, with the expo season underway, getting your communications strategy just right is a must. Contact me today for savvy content marketing solutions. www.contentworks.agency