How can you leverage social media for events? Corporate events are a great way to meet new people, increase brand awareness and demonstrate innovative services. In fact, a whopping 80% of marketers believe live events are critical to their company's success, but with so many businesses embracing the whole 'networking' thing – how can you stand up and get noticed? Well, why not revamp your social media strategy?
Technology: The Path to Becoming a Social Media for Events
When it comes to making a mark on social platforms like Facebook or Twitter, many organisations hesitate. Not because they want to shun modern technology, but because they're unsure of the whole process and how to reap the benefits. Indeed, 51% of event organisers say their biggest challenge in using social media is how to use it effectively – so we thought it was only right to share some simple yet useful and little-known tips. Here it goes.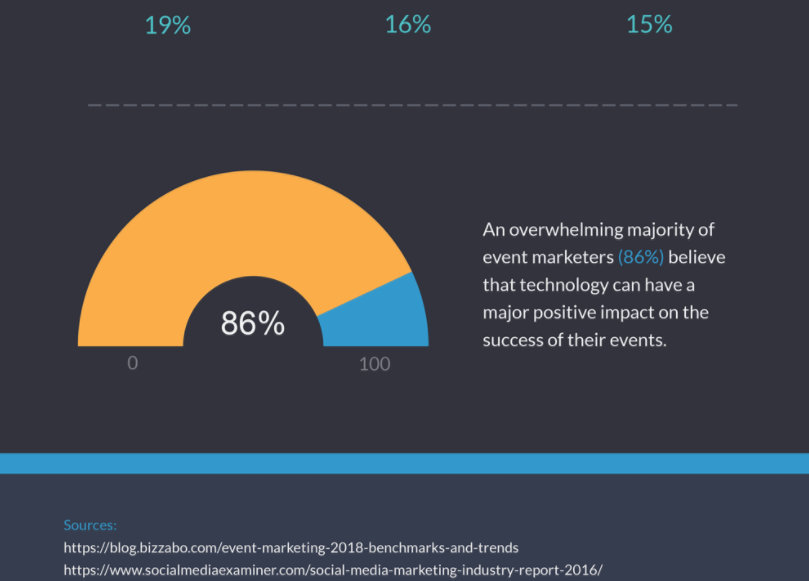 How to Make Social Media Work Hard For You
Tired of doing all the graft? Then let social media do some of the work for you. With a little effort you'll have more eyes on your campaign and be able to generate that much-needed buzz.
Step One: Choose Your Social Networks
With so many social media platforms available it can be difficult to know where to focus your marketing budget and event-planning efforts. While it's a good idea to be active on multiple channels, you must do your research to find out which networks your target audience prefers.
The below chart, for instance, clearly indicates that Instagram is most popular with both men and women between the ages of 18 and 24. If that's the demographic you want to connect with, great. If not it might be worth focusing on other channels such as Facebook with over-55s predicted to become the second biggest demographic of Facebook users save for 16-35-year-olds.
Distribution of Instagram users worldwide as of April 2018: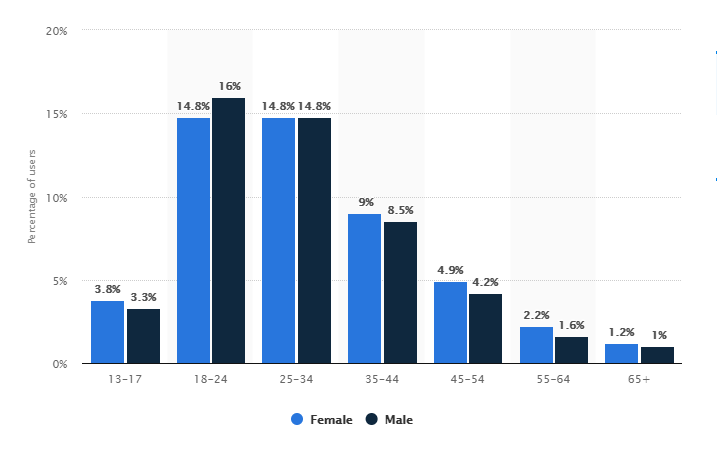 If you already have your social channels nailed – take things a step further by:
Setting up a branded Facebook Events page full of eye-catching imagery, useful information such as times and dates, photos from previous events and more. Be sure to invite your followers in good time and encourage them to RSVP on your events page.
Integrating all your social media channels. Include your Twitter handle on Facebook. Put your link to your Facebook Events page on Twitter and so on.
Making the most of Facebook remarketing by advertising to previous Facebook visitors. Facebook allows you to customise your audience and re-target those who took interest in your page but didn't follow through on your particular call of action the first time round.
Top tip: When we talk about social media for events, engagement is of paramount importance. So, whatever network you opt for make sure you interact with your online community and shout about your upcoming event – don't just set up shop and leave during the middle of the day as people will get bored easily.
Step two: Choose your event hashtag
If you don't know that hashtags are massive in today's online marketing world #wherehaveyoubeen? It's definitely time to #wakeup #smellthecoffee and #jumponthebandwagon of #hashtagmarketing.
Okay, so it's a little annoying but it's a great way to get people talking about your event and to generate an online buzz. You'll also make it really easy for your fans to follow your posts – which, let's face it, is never a bad thing in a somewhat overcrowded digital space.
Your hashtag should be short, catchy and memorable. Don't make it too long as people might make spelling errors or be too lazy to type it out.
Step three: Market your hashtag
Once you've come up with a hashtag that's unique, fun, edgy and hopefully related to your event (after all, it's a promotional tool) be sure to:
Use it well before the actual event to build excitement
Include it on the bio (about) section of all social accounts
Pop your hashtag on digital images, email signatures and anywhere else it can be easily seen
Include it in all related social media posts: For example: "First batch of biscuits baked" #companybringandbuy
Here's an example: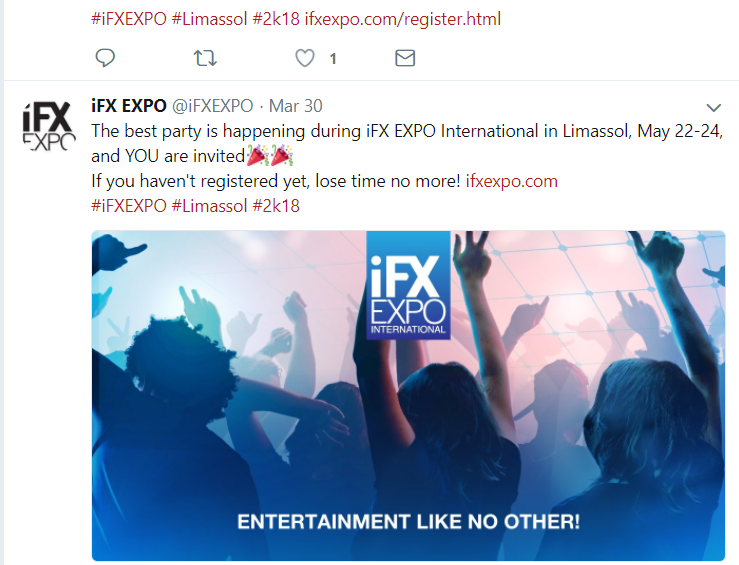 In order to successfully market your hashtag and get people interested in your up-and-coming event, you may also want to run a competition. Don't tie yourself up in knots. Keep it simple by offering a prize for the best themed photo, funny photo caption, video, fancy dress costume or something along those lines. The most important rule is that everyone taking part must use your hashtag.
Step 4: Invest in high-quality content
One of the best ways to leverage social media for events is through high-quality content. As well as articles, blogs and well-written PR material, you could also try:
Video blogging/teaser videos
Live streaming during event preparation
Posting photos/videos of previous events
Creatively displaying testimonials
Creating a testimonial video
Producing sharable GIFs and infographics
Sharing photos of previous attendees and tagging them
Sharing pictures of speakers with quote overlays
Top tip : All content should have a strong call to action and drive people towards 'buying tickets' or 'signing up' to your event.
Step 5: Embrace influencer marketing
Want to get people interested in your event? Then why not embrace influencer marketing and invite someone along that's well-known to the industry? This might be hard but if you pull it off it could certainly do wonders for your campaign. If you can't get a particular celebrity, famous face or thought leader to actually attend, you could always ask them to share a tweet as this will maximise exposure and give you some street cred. Remember to provide a specific brief including:
What they should mention in the tweet
What hashtags they should use
Any preferred imagery
Top tip: Make the most of Twitter's ClickToTweet tool which allows users to instantly tweet branded and pre-crafted (by you) snippets of content to their account.
If you need any help leveraging social media for events contact me today for top-notch advice and a knock-out strategy.