Are your social media accounts at risk? Hacking is a real problem in this modern, technology-driven world and yet many companies within the finance sector are leaving the door wide open for cyber criminals by not conducing regular risk assessments of critical systems. The WannaCry ransom attack of May 2017 affected more than 200,000 computers across the world and with scam social media management providing another avenue for malicious activity it's essential to protect your accounts.
Why Is It Important To Guard Against Cybercrime?
A hacked social media account can be bad for business, losing you followers, getting you banned from networks and damaging your online reputation. As it's so important to remain complaint in the finance/fintech space, an account takeover could land you in trouble with bigwig regulators resulting in a company-ending fine. YOU are responsible for all information that's sent via your social platforms and therefore it's essential to be absolutely on the ball when it comes to security.
While it's easy to get complacent and think an attack won't happen to your business, it's worth knowing that cybercrime is on the rise. According to reports, malware attacks rose by 18% in 2017 with a new record of 9.32 billion attacks recorded. If things continue at the same pace, we could be looking at 11 billion malware attacks in 2018 – and that's not to be taken lightly.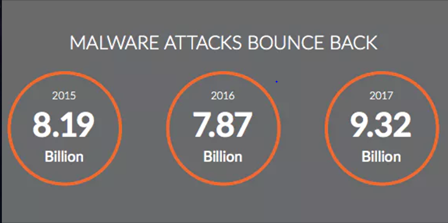 Recent Examples of Social Media Hacking
Before we discuss social media protection, let's take a look at some recent, highly publicised examples of social media hacking that are sure to make you stand up and take notice.
Enigma's Slack and Website Hacked
Enigma – a decentralised investment platform – was in the news for all the wrong reasons last year after it became the victim of a successful ICO hack. The Slack community channel of Enigma was targeted by attackers who impersonated the company's executives and told members of the community to send their Ethereum coins to a specific wallet. By sending out spam, the perpetrators managed to net nearly $500,000.
This attack was highly embarrassing for Enigma for many reasons but mostly because they didn't lose money themselves – the Enigma community did.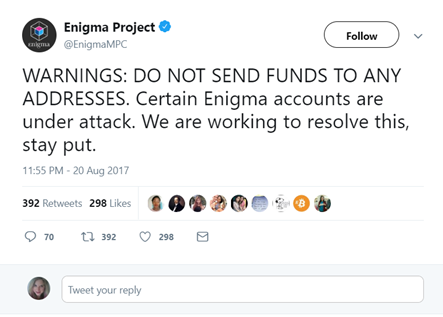 From Instagram to the dark net
Back in 2017, Instagram suffered a huge data breach when a hacker stole personal details from 6 million high-profile accounts belonging to politicians, sports stars, musicians and popular media personalities. The data was brazenly put up for sale on DoxaGram.
Hackers unashamedly targeted celebrities including Selena Gomez posting nude pictures of her ex Justin Bieber to her account. This forced the star to temporarily de-activate her account. How to Improve Your Social Media Security
As you can see, social media security is of great importance – so what can you do to ensure your social media management keeps cybercrime at bay?
Control access to your social media accounts
When working in the finance/fintech space, you hopefully already take steps to ensure security is tight – but don't get lazy when it comes to social media. Always, always, always control access to your social media accounts and don't let just anyone take and use your passwords. The more people who have your account details, the more likely a hacking attempt might take place – even by current or ex-employees.
It's also worth bearing in mind that social media giants such are Facebook are also making changes in-line with the latest data protection GDPR updates. Those who manage pages with a large number of followers, for instance (the exact number is yet to be specified), will have to be verified.
Top tip: Use social media management tools such as Agorapulse which allows you to grant specific employees access to specific accounts.
Get suspicious activity alerts
The quicker you're aware of malicious activity happening on your social accounts, the better, so it's well-worth installing 'intrusion detection' apps on your mobile phone. Apps such as LogDog will help protect your personal and business accounts alerting you to unauthorised access and tightening the overall security of your social media activity.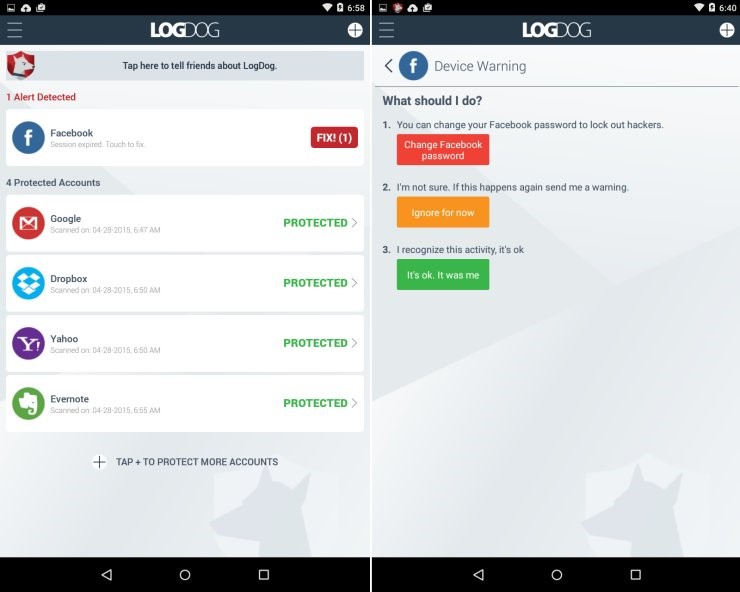 Eliminate as many risks as possible
Security is of paramount importance within the finance sector and therefore it's crucial to eliminate as many cybercrime risks as possible. You can do this by:
Logging out of social media accounts whenever they're not in use
Clearing your cache regularly
Locking your phone if you've social media apps downloaded
Keeping close tabs on your phone and never leaving it unattended
Being careful when clicking on unknown links
Removing ex-employees from your accounts and regularly changing passwords – even if they left your company on good terms (you can never be too careful)
Implement a 'social media security' plan to ensure everyone's on the same page
Have a crisis strategy – if something goes wrong and your account is hacked, you must know what to do. Assign someone with the skills to deal with an emergency situation.
If you need help or assistance running your finance social media accounts, get in contact today!