Social media is the great leveler for big brands because it doesn't simply favour brands with big bucks to spend. To succeed as a big brand you must also be innovative, fast and original – qualities which not all brands possess. So with this in mind here are 3 brands who are killing it on social media ….
KLM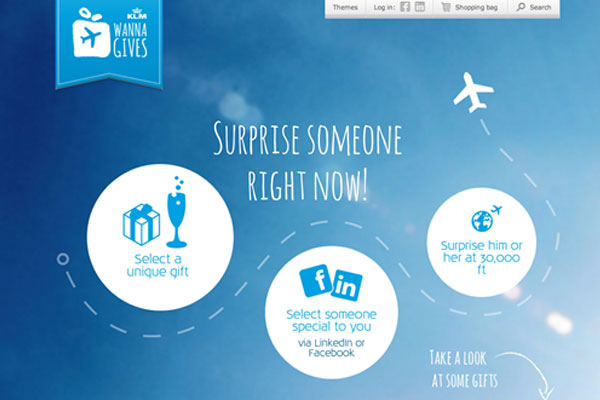 Wow what can I say about KLM other than high five! KLM, the oldest airline in the world, has won at social media because they listen and interact constantly across all platforms. They are also masters of innovative social campaigns which tie in with their 3D operations. Their famous MEET & SEAT campaign offered customers the chance to link their social media profiles to their checkin information so they could choose who they sat next to based on the social profiles of other flyers. Totally cool. On another campaign KLM SURPRISE they surprised flyers with a gift based on their recent tweets and foursquare checkins. On a personal note I can also say that whenever I chat with KLM on Twitter they are always happy to have some fun and are not above some friendly tweets. KLM you're killing it on social media!
Lesson- Grab attention and win the people's hearts on social media and you will not only gain new followers but new paying clients.
OREO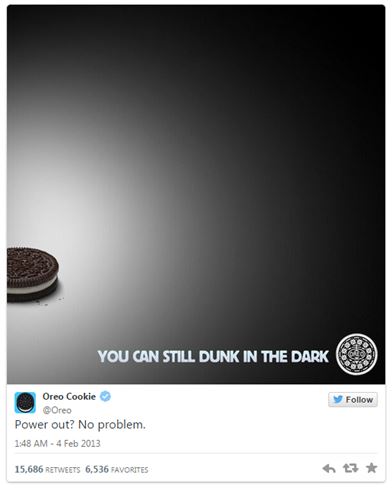 The social media team at Oreo know about more than just delicious cookies! Oreo is not afraid to have fun with its social media audience because they know them pretty well. They are also on top of the latest events and know how to use them to their own advantage. One of their images was created during the infamous Superbowl blackout. This resulted in 15,000+ retweets and 20,000 new likes on Facebook.
LESSON- Social media revolves around fun so if your brand can be a little bit cheeky it might be a winner.
MORTON'S STEAKHOUSE

I love this legendary social media stunt! The above tweet was jokingly sent from Peter Shankman, American entrepreneur, blogger, and adventurist as he was boarding a flight. Addressing Morton's he was asking if a steak could be delivered to the arrivals lounge. Peter has over 170,000 Twitter followers so Morton's thought – yep let's do it!  In under 3 hours Morton's saw the tweet, arranged for their closest restaurant to arrange the steak and sides and deliver the food to the correct arrival gate… Pure Genus and defnitely one of the 3 Brands Who Are Killing It on Social Media.
Lesson – Speed and opportunity are essential in social media. Morton's saw an opportunity and they moved quickly to seize it!
OVERVIEW
Know your audience
Use videos and images
Timing is important
Understand your brand
Build social relationships
I hope you enjoyed reading 3 Brands Who Are Killing It on Social Media. Who is your favourite brand on social media? Tweet me @charl_says and let me know