June has been Pride Month and as an online marketing girl I've seen the rainbow in all its glory. Inclusive, supportive and progressive campaigns have been launched by top brands who stand in unity with the LGBT community. And the energy has been fab. Here are some of my highlights in the 2019 Pride Marketing Campaigns Wrap Up.
#1 Converse – Glitter-Dipped Awesomeness
Converse celebrated the 50th anniversary of Pride in all its glory with their very own glitter-dipped pride collection which featured parade-worthy sneakers and their own trans-flag design. The custom-made 'Pride by You' initiative allowed consumers to express their individuality while marketing efforts were backed by a commitment to support movements for positive social change. By partnering with six individuals connected with the LGBT community, the Converse social spin took a much more authentic twist.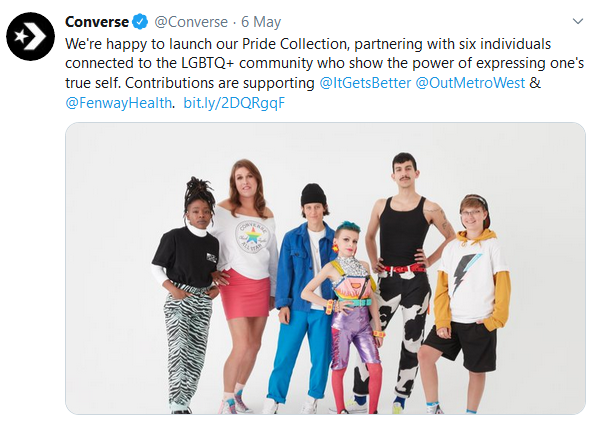 #2 American Apparel – How We Love
American Apparel continued their dedication to advocate for the LGBT community by releasing a cool capsule collection of Pride t-shirts, casting a diverse group for its standout campaign. The key marketing slogan was How We Love, a bold statement of inclusivity.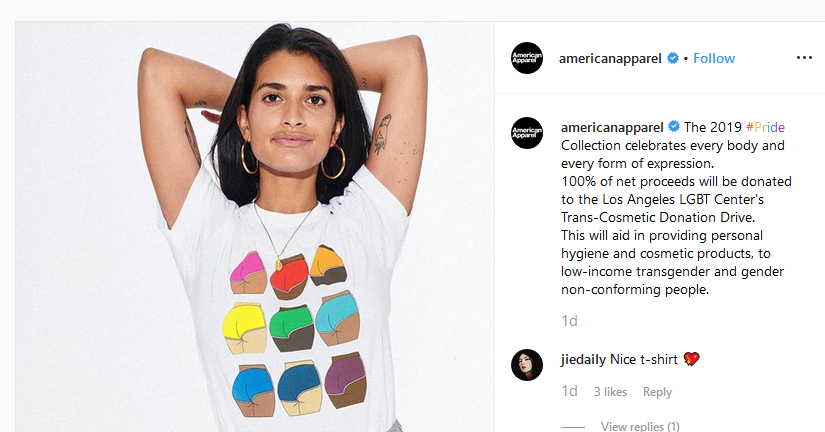 What's really cool about the American Apparel campaign is not just its Pride support but the 'giving back' essence behind their efforts. Incredibly, 100% of the new profits from the Pride collection will be donated to the LGTB Centre's Trans-Cosmetic Donation Drive which helps to provide hygiene and cosmetic products to low-income transgender and gender non-conforming people.
#3 Happy Socks & the Phluid Project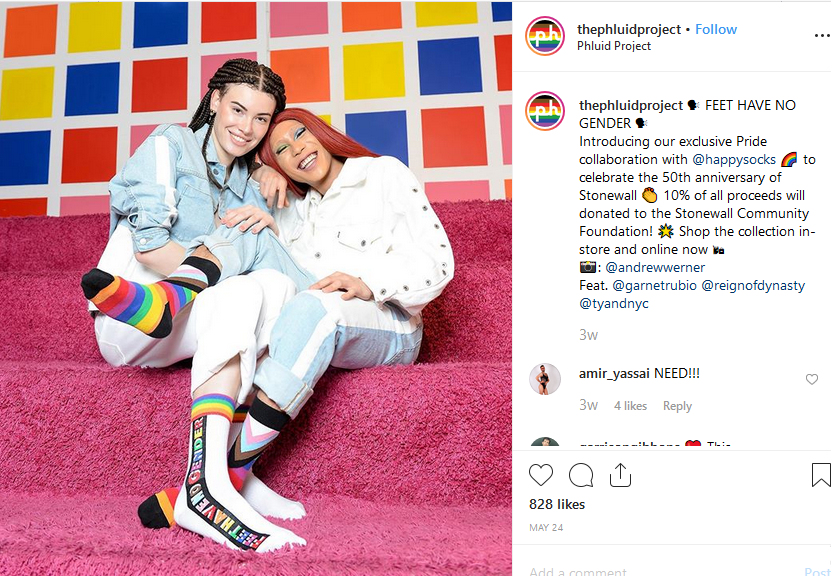 Happy Socks teamed up with gender-free retail store The Phluid Project to produce a capsule collection of socks to mark the 50th anniversary of the Stonewall Uprising and New York City's first Pride celebration. 10% of all proceeds will be donated to the Stonewall Community Foundation! The social media efforts from both organisations were colourful, positive and inspiring with clear calls to action. I particularly like the slogan "Feet Have No Gender."
#4 Starbucks – #ExtraShotofPride
Starbucks were all over Pride against this year with their #ExtraShotofPride campaign which celebrated individual stories.

They used clear imagery gifs and quotes from a diverse group of people – including employees – to showcase that everyone has a voice and how Starbucks is an inclusive employer.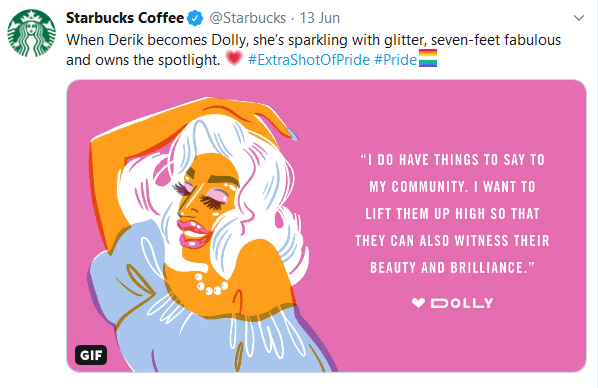 What was also really great about the Starbucks campaign is that they made it easy for people to download their very own Pride march posters, an interactive effort that showed their dedication to the cause.
And to top it all off Starbucks collaborated with @LadyGaga and the Born This Way Foundation @BTWFoundation to support a kinder, braver world. All donations were matched by the Starbucks Foundation up to $250,000. If that's not pulling out all the stops, then really, what is?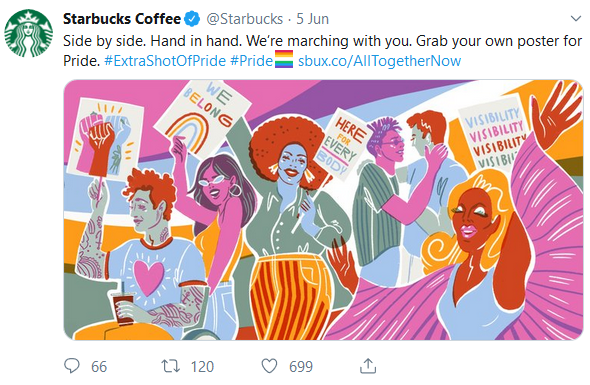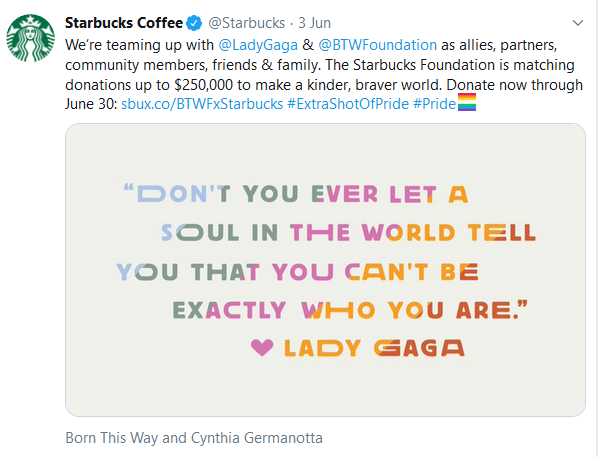 #5 Absolute Vodka – We Take Action
Absolute Vodka has long been supporters of the LGBT community, but in honour of the first Pride march which took place 50-years ago, they took things up a notch honouring those who fought – and keep fighting – to be accepted. They recreated a historic moment by championing 10 LGBT activists and publicising their story across the Absolute Vodka website and social media channels.

The Absolut Vodka campaign was in partnership with non-profit media monitoring organisation GLAAD, founded by the LGBT community in 1985. Note the branded hashtag #AbsolutPride which directly associates the brand with the cause. Brands who genuinely support such movements can used hashtags to their advantage but should never just jump on the bandwagon as this can look classless and tacky.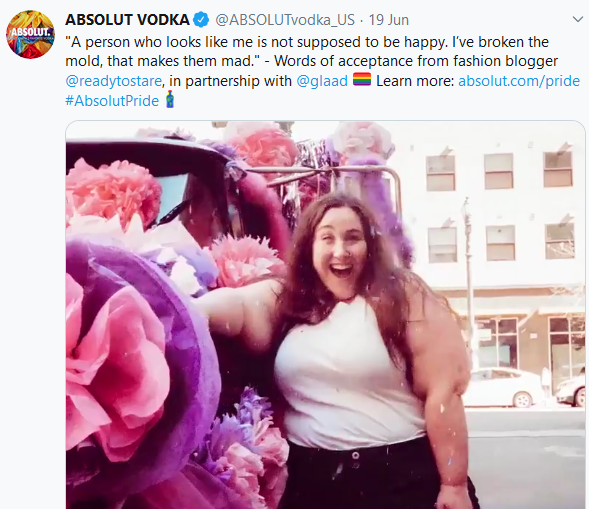 June has been an amazing month of Pride-led campaigns which have created an amazing sense of inclusion and acceptance. There are many more I could have mentioned but I felt the above really popped! What were your pride 2019 highlights? Tweet me @Charli_Says and let me know!